South Africa Map and A-Z of Regions
Interactive Map And Full List Of Regions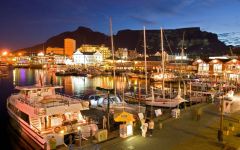 Visa Requirements
Visitors from the UK, USA, most European countries, and Australia do not require tourist visas for a stay of up to 90 days.
Vistors from other countries should check the visa requirements.
When to visit
South Africa is a year-round destination, however there are some things you may want to consider when planning your trip.
The Southern Hemisphere summer (October to April) is the most popular time for visitors to Cape Town and the Garden Route as this part of the country enjoys warm, dry, sunny summer days at this time of year.
Whilst the Kruger Park is a great place to visit at any time of year, it is arguably at its best between May and August. At this time of year the temperature is cooler, and it is easier to find the animals as they tend to congregate around waterholes and rivers. This is also ofen the best time to find a special offer or lower price as a safari lodge.
The whale watching season in Hermanus runs from July to October.