Madikwe Game Reserve
Malaria-Free Big 5 Safaris in the Madikwe Game Reserve
Madikwe at a Glance
75,000 Hectares
Big 5 Safari Reserve
Malaria Free
Game Drives in Open Vehicles
Bush Walks at Some Lodges
5 Hour Drive from Johannesburg
Shuttle Flight Service into Reserve
Madikwe Game Reserve is a magically remote wedge of wilderness hugging the border with Botswana, high in the North West Province of South Africa. Nestled in a transition zone on the fringe of the vast Kalahari Desert, it's a completely unique place with a wonderfully epic atmosphere. Reaching across a staggering 75,000 hectares of malaria-free territory, it's one of the largest game reserves in South Africa, yet amazingly, it remains untouched by mass tourism today.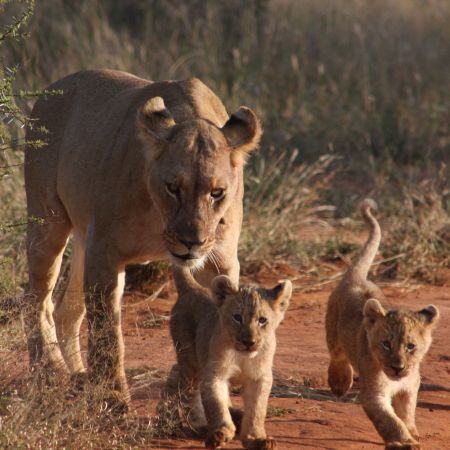 Not only is Madikwe huge in size, it's also big on beauty. The landscape is richly varied, with rocky hills, forested mountains, gushing rivers, large stretches of savanna grassland, thick woodland and tangled masses of arid sweet bushveld. It's a natural paradise packed with wildlife, from the famous Big Five to the rare African wild dog and the 340 kinds of bird that chatter in the branches.
In total, over 66 species of large mammals roam the hills and valleys of Madikwe, often in great herds, so as a safari destination it's second to none. Yet Madikwe feels worlds away from the madding crowds of Kruger, as fewer tourists venture far enough to reach this secluded pocket of South Africa. No day visitors are allowed, so a safari here is both exclusive and exhilarating. It's a brilliant way to feel completely buried in the bush.
Madikwe's lodges are splendid in their isolation and wherever you choose to stay you'll feel a million miles from home. You'll be lulled to sleep by the sounds of the bush, stare into star-studded Africa skies and gaze out across open grassland filled with grazing antelope and zebra. There's a lodge in Madikwe to suit every kind of safari style, so whether you dream of a bush treehouse, a luxury tent, a thatched chalet or an elegant forest suite, or you are travelling with your young family, there will be something that is just right for you.
During your stay in Madikwe, you'll set off on safari at first light, looking for wildlife as the sun rises over the savanna. You'll stop on the way for light bush breakfast, with a hot coffee and a snack. Then, you can spend the afternoon relaxing around the swimming pool, reading on your private deck or snoozing in the sunshine before heading back into the bush for another safari at dusk, complete with a scenic sundowner. This is the rhythm of safari life, and it's pretty hard to beat.
In terms of getting here from Johannesburg, there are 3 options that you can consider.
The first option is via light aircraft. You can fly daily from Johannesburg OR Tambo Airport directly to the Madikwe Game Reserve. The service is run by Federal Air, and you are met at the airport by one of their professional Guest Relations team, and transferred to FedAir's private lounge where you can relax before boarding your flight to the reserve. It takes about an hour, and upon landing in the reserve, you are met and transferred to the lodge by Land Rover. There is, however, a baggage restriction of 20 kg per person, and you have to have a 'soft' bag (for easy storage in the plane), but you can leave any excess baggage safely with FedAir, which you can then pick up when you return. For guests arriving and/or departing via FedAir, the landing/departure fees are not included in your rate and are payable directly to the lodge (currently R240 per adult and R150 per child).
The second option is to take a road transfer, which takes about 5 hours. You could also consider flying one way, and taking a road transfer the other way.
The last option is to hire a car from the airport and driving yourself to the reserve, which works out the least expensive but we appreciate that not everyone is comfortable driving the long distance, especially if you have just got off an international flight! The roads are generally in good condition, therefore a 4x4 vehicle is not required.
Whichever way you make it to Madikwe, we promise that you'll be in for a real treat.