Malaria-Free Safaris near Port Elizabeth and The Garden Route
The Eastern Cape lies at the far end of the scenic Garden Route. It's a beautiful area packed with exclusive private reserves offering Big Five wildlife viewing in a completely malaria-free environment. The area is also home to Addo Elephant National Park, where you can have the thrill of self-driving through the bush and discovering the wildlife yourselves.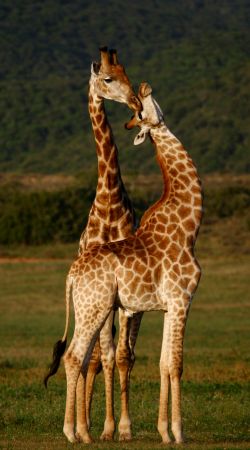 Opting for a safari in the Eastern Cape is a great way to combine a real safari adventure with a Cape Town and Garden Route holiday. Between a 60 minute and 90 minute drive from Port Elizabeth, the Eastern Cape reserves are very accessible, so it's a handy way to cut down on time and money spent on travel. It's also a brilliant, worry-free option for families, as anti-malarials are not necessary.
With the exception of the Addo Elephant National Park, the wildlife reserves in the Eastern Cape are all privately owned and they range in size from 5,000 hectares to over 25,000 hectares. Each reserve operates independently and each one has its own stock of wildlife. The larger reserves of the Eastern Cape, Kwandwe and Shamwari, can sustain wildlife in bigger numbers, and this is why they are more expensive than the smaller reserves.
Shamwari Game Reserve is the longest-running private reserve in the Eastern Cape. Stretching across 25,000 hectares, it's now home not only to the Big Five, but also to wild dog, cheetah, hyena, hippo, giraffe and zebra. At 22,000 hectares, Kwandwe Game Reserve is the second largest of the Eastern Cape reserves, known for excellent cheetah sightings and popular with birders due to its population of highly endangered blue cranes.
The smaller reserves such as Amakhala, Pumba, Kariega and Lalibela range from around 5,000 hectares to over 10,000 hectares in size, so they do need to place a limit on their number of predators. For example, a small reserve can only sustain one or two prides of lion or they would find their entire buffalo and zebra population wiped out by hungry big cats! However, although the wildlife population in these reserves is not massively large, they still offer great game drives in a beautiful African setting and tend to be a little more affordable.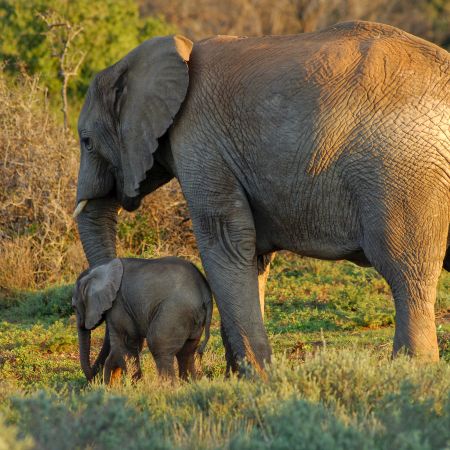 A couple of the smaller reserves are also what they call 'split' reserves now, which means that the more dangerous wildlife is kept in a separate fenced off area to safeguard the wildlife population levels. This, of course, is not the same as an authentic safari experience through a natural habitat such as Kruger, but it can still be a convenient way to see the Big Five if time, or funds, are short in supply.
Another option is a day visitor safari. If you're staying in Port Elizabeth on a flying visit, a couple of the reserves - such as Pumba and Amakhala - offer one day safari experiences. This can be a great way to get an African safari experience on the fly.
Last, but certainly not least, the Eastern Cape is also home to Addo Elephant National Park. It's a lush, forested area with rolling green hills, valleys and meandering rivers, and it's full of wonderful wildlife. Addo is home to over 450 elephants, giving it the greatest density of elephant per hectare in Africa. Now that's a claim to fame!
They wander freely through the 180,000 hectare park and you'll often see them roaming in large herds - a breathtaking sight that will stick with you forever.