Traditional accommodation in a relaxed atmosphere
Lalibela offers traditional game lodge accommodation with authentic African decor and a relaxed and informal atmosphere in the heart of the Eastern Cape.
This malaria-free reserve covers approximately 10,500 hectares, and unlike some of the neighbouring game reserves, there are no public roads running through Lalibela's land.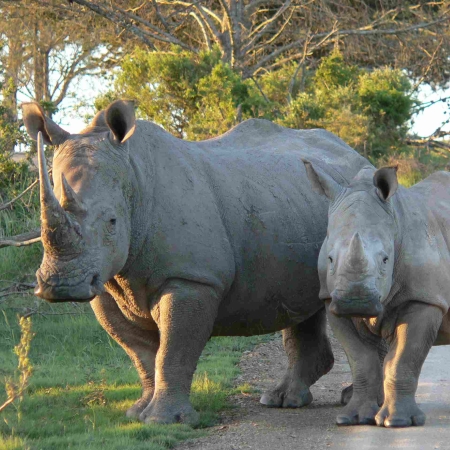 The reserve spans 5 ecosystems (valley bushveld, grassland, fynbos and riverine forest), which is home to a great diversity of wildlife.
Guests staying here can enjoy a Big 5 game viewing experience on daily morning and afternoon game drives in an open safari vehicle. Other large mammals found on the reserve include hippo, giraffe, zebra, warthog and numerous species of antelope such as eland, kudu, bushbuck and wildebeest.
All of the animals, including the predators, are free-roaming throughout the entire reserve.
In addition to game drives, a walking safari is an exhilarating way of discovering nature and exploring the bush from a different perspective. Expert guides give you insight on the different fauna and flora that can be found on Lalibela.
For guests wanting a stay of 4 nights, there is the option to combine 3 nights at Lentaba Lodge and one night at Inzolo Lodge, and enjoy a Big 5 walking safari between the lodges. The thickly wooded valley between Lentaba and Inzolo is rich in biodiversity and provides guests with a truly unique opportunity to experience the bush on foot.