Lentaba Lodge
Lalibela Game Reserve
Lentaba Lodge is located in the 7,500 Lalibela Game Reserve. Lalibela's location in the Eastern Cape is not only malaria-free, but spans 5 ecosystems, resulting in a wide diversity of flora and fauna.
Known as the 'Lodge on the Hillside', Lentaba boasts a large lounge, viewing deck and a sunny swimming pool where you can spend a lazy afternoon in-between game drives.
There is also a waterhole, which is spotlit after dark for night game viewing.
Early morning and sunset game drives in an open game viewing vehicle with an experienced game ranger bring you face to face with a multitude of game species including the Big 5, as well as hippo, giraffe, zebra, warthog and numerous species of antelope such as eland, kudu, bushbuck and wildebeest.
All of the animals, including the predators, are free-roaming throughout the entire reserve.
The lodge offers 8 secluded thatched chalets, each with air conditioning and a private observation deck to make the most of the views over the valley bushveld.
There is an outdoor dining 'boma' for fireside dinners and open-air brunches in the summer months, as well as a gracious indoor dining area.
In the evenings, guests are entertained by the resident African Dance Group before enjoying their evening meal.
Add To Wishlist
Enquire Now
All meals; drinks (excluding premium wines); and 2 daily shared game drives are included.
Children aged 12 years and older are welcome. Adult rates apply.
Special Offers
Lalibela Game Reserve: Stay 3 nights for the price of 2Code:
SAF-03946
Valid:
1 May 2017 - 30 September 2017.
Stay for 3 nights for the price of 2 at Lentaba Lodge in the Lalibela Game Reserve.
Valid at Mark's Camp and Lentaba Safari Lodge only. Offer is restricted & Lalibela reserves the right to limit the number of rooms available & to discontinue the promotion at any time. Bookings are subject to availability, terms & conditions apply.
More Properties On This Offer
Add To Wishlist
Enquire Now
Guest Rating: 4.8 / 5.0 based on 5 ratings
Great safari, great food, excellent staff. Everything was impeccable.
T GRANT
Lentaba Lodge - excellent cusine, well looked after by staff, ranger on game drives was very informative ... very very enjoyable.
R GIBBINS
Hi Tracey, just to stay a big thank you, the safari was amazing it was everything we wanted. The Lentaba Lodge was a perfect place & would recommend this to anyone. Will be in touch for my next trip, once again thanks.
V HOOPER
General Information For Guests
The main lodge, decorated in traditional safari style, boasts a large lounge, viewing deck and a sunny swimming pool where you can spend a lazy afternoon.
The outdoor dining boma has a commanding view of a waterhole which is spotlit after dark for night game viewing. There is also a stylish indoor dining area. Brunch is served al fresco on the main viewing deck.
The lodge has Wi-Fi wireless internet connectivity - this service is free of charge.
Popular Alternatives to Lentaba Lodge
These are the top properties booked by people who considered staying at Lentaba Lodge, but for one reason or another booked a different property. It may have been that Lentaba Lodge was not available on the nights they wanted to stay, or they decided that somewhere else was better suited to their budget or itinerary.
If you're not sure which place might be best for your own trip then either give us a call or get in touch via the website, and we'd be delighted to run through the options with you.
Add To Wishlist
Enquire Now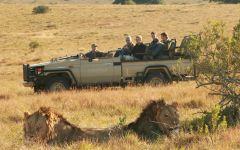 Location
Top Rated Property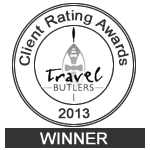 Lentaba Lodge was one of the top rated properties in our 2013 awards.
The awards are based on the ratings that clients of Travel Butlers give after their stay, and Lentaba Lodge had an average score of 4.8 out of 5.
See All of the 2013 Award Winners