A paradise of white sand beaches in the Indian Ocean
There's something very special about a Seychelles holiday. This castaway clutch of islands is a tropical paradise with an extra twist. Not only home to some of the world's softest, purest sands and clearest turquoise waters, Seychelles also boasts a relaxed way of life, an inspiring cultural diversity and a host of truly stunning scenery. Even better, wherever you stay and whatever you do, you'll be worlds away from a crowd. It's utter barefoot bliss, but that's only the beginning.
The Different Islands of Seychelles
Marooned in the middle of the Indian Ocean, north of Madagascar and east of Zanzibar, this remote location has kept Seychelles secluded from mass tourism. There are 115 tiny islands in total and many of these are either uninhabited or dedicated nature reserves. Each island is topped with a lush tropical forest, fringed by pristine white sands, surrounded by azure waters and drenched in sunshine. There are 43 inner islands and 72 smaller satellite outer islands. Let's just say that you'll be totally spoilt for choice!
The 3 main islands (which form part of the inner island group and where you will find the majority of the hotels) are Mahé, Praslin and La Digue, and surrounding these you have various other inner islands such as Silhouette, St Anne, North, Fregate, Cerf, Curieuse and Cousin Islands. The outer islands are more exclusive as they can only be reached by light aircraft, and whilst many remain as deserted islands, a small handful such as Denis Private Island and Desroches Island are now home to luxury, intimate beach resorts.
Culture
Ruled first by the French and then by the British until 1976, the Seychellois have ancestry drawn from all 4 corners of the earth. Exiles were sent here to stay out of trouble, freed slaves settled down, adventurers weighed anchor and Arab, Persian, Chinese and Indian traders all passed through these shores. As a result, the local art, the music and even the architecture are different from anywhere else in the world.
Creole is the main language spoken, while English and French also play an important part. The variety of religions include Christianity, Hinduism and Islam which blend seamlessly with local cultures and beliefs.
With such diversity, the Creole cuisine is an explosion of different flavours and sampling the local dishes is one of the highlights of a stay. Try some fresh grilled snapper fish for lunch, or maybe a chicken coconut curry with papaya chutney on the side.
Any visitor will relish in the peaceful and friendly vibe of this hugely diverse nation. Nothing is too much trouble and service is certainly delivered with a beaming smile.
And There's More
Seduced? Well, there's more good news! With a balmy tropical climate and fresh sea breeze, Seychelles is a great place to visit all year round. Strictly speaking, the seasons are ruled by the trade winds. The north-western trades bring warmer and wetter weather from November to March, although the rain tends to arrive in short sharp bursts between long bouts of sunshine. From May to September, the trade winds blow in from the south-east, bringing drier weather with brisker breezes. The shoulder months of April and October are calm, warm and windless, making them brilliant months to whisk yourself off to an island paradise.
And to add to the list, Seychelles is malaria and Yellow fever free and no immunisations are necessary. Can it get any better?
What To Do
If you manage to tear yourself away from your sun lounger (which is tricky), beyond the postcard-perfect beaches you'll find wild waterfalls, giant tortoises, huge coral atolls and jungle valleys filled with coco de mer palm trees. You can climb towering granite peaks, hike through overgrown trails, snorkel amongst sea turtles, scuba dive into impossibly clear waters and explore colourful coral gardens swarming with sea life, explore the islands by yacht, or enjoy a world-class fishing adventure. There truly is something for everyone in the Seychelles.
Safari and Beach
Many people choose to combine a stay in Seychelles with a safari on mainland Africa. Daily direct flights from Nairobi in Kenya and Johannesburg in South Africa make this a relatively easy two centre holiday for those looking for the thrill of seeking out the Big 5 followed by a relaxing beach stay.
If you're staying in Seychelles for just a few days after a safari, it's best to pick one island and use it as a base. Trust us, whichever one you choose, you can't go far wrong. Staying in one place will give you plenty of time to unwind, soak up the sunshine and get ready to step back into reality.
Island Hopping
If you've got a little more time to play with, you can indulge in a spot of island-hopping, dividing your trip between two or 3 different islands. This way, you can explore the huddle of exotic islands from every angle, guaranteeing you an unbeatable tropical adventure.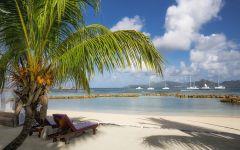 Code: ITINERARY-03420
---
An island-hopping holiday in Seychelles is a route straight into a Robinson Crusoe style fantasy. It's a world of giant pink boulders tumbling out of tropical jungle onto powdery white sands. Hopping from one sun-kissed slice of paradise to another, you'll be overwhelmed by the beauty of Seychelles. It's somewhere stunning to be stranded for a week or two.
---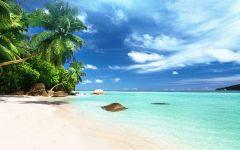 Code: ITINERARY-03419
---
Combining the world's most spectacular wildlife with the planet's most perfect beaches, a trip to Kenya and Seychelles is an idyllic twin-centre holiday. First, you'll gaze across the vast open plains of the Masai Mara, scouring the savanna for herds of elephant and playful lion cubs. Then, after a few days of exciting game drives, you'll fly directly to Seychelles and swop your safari shorts for a sarong and enjoy a dreamy dose of tropical sunshine.
---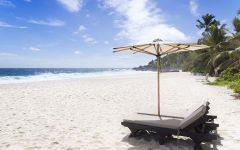 Code: ITINERARY-03418
---
Mixing South Africa with Seychelles will give you unforgettable Big 5 game drives followed by a tropical desert island escape. It's one of the ultimate safari and sunshine combinations. First, you'll explore the African bushveld on the safari of a lifetime and then you'll retreat to a picture-perfect beach paradise to recharge your batteries. What could possibly be better?
---