A little piece of Heaven on Earth
Denis Private Island is a tiny tropical drop in the Indian Ocean, measuring just 1.3 km in length and 1.75 km in width. It's a coral island filled with lush forest and framed by bright white beaches. Coconut palms lean over powdery sands, casting long shadows and providing perfect shady nooks for an exotic afternoon nap. It's somewhere to take lingering sunset strolls, explore jungle trails and feel the cool, silky sand between your toes. In other words, it's a little piece of heaven on earth.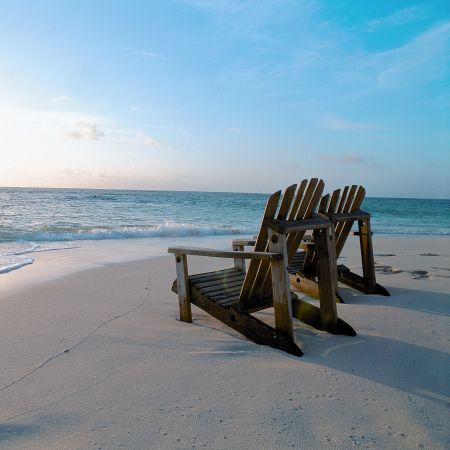 A privately owned island, Denis is your own personal paradise. Barefoot escapism doesn't get better than this. When its resort was first opened, the marketing slogan called Denis 'the island at the edge of the world' - and it certainly feels a million miles away from the everyday grind.
Located 95 km north from Mahé, you can reach the island via a short 30 minute flight. Stepping off the plane, you'll find yourself slap bang in the centre of 7th heaven.
Surrounded by totally translucent waters and a thriving coral reef, it's a wonderful spot for water lovers. Sitting on the edge of the Seychelles Bank, a drop-off that plunges 2,000 metres into the Indian Ocean, the underwater world here is alive with turtles, sting rays, sailfish and dolphins. The snorkelling is second to none, the diving is to die for and there's also the opportunity to try canoeing and deep-sea fishing.
Back on land, Denis Island is a dedicated nature sanctuary for rare paradise flycatchers, giant tortoises, Seychelles warblers and magpie robins. Nature walks criss-cross the island, all guaranteeing stunning views and surprising natural encounters en route. Thanks to a special project to re-introduce endangered birds to the island, there is bountiful birdlife on Denis, from frigates to white-tailed tropic birds, whimbrels, doves and wood pigeons. From July to December, sea turtles lay eggs on the beach.
Denis is the perfect place for a romantic honeymoon hideaway or a mini-break filled with barefoot bliss. If you're longing for lazy, tranquil days in one of the world's most beautiful settings, Denis will tick every box. It's remote and a stunning spot to be totally marooned and reconnect with nature.