Step back in time on unspoilt La Digue
La Digue is all about simple pleasures. It's a sun-drenched world of stunning beaches and beautiful scenery where time slows down almost to a halt. La Digue is the perfect place to get back to nature and focus on the barefoot necessities.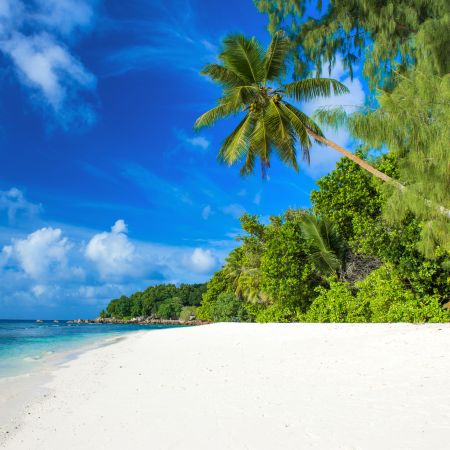 With only one surfaced road, La Digue is deliciously backwards in coming forward and determined to stay this way for years to come. This is a huge part of its charm. If you're looking for a laid-back break from reality in Seychelles, you can't do better than this.
While La Digue is the 4th largest island in the Seychelles, you can wander from one coast to the other in just one hour on foot. It takes only 15 minutes to cross to La Digue from Praslin, but it will feel as though you've entered an entirely different world. La Digue is completely unspoilt and true to its traditional Creole roots. There is no worry and no hurry on La Digue.
When it comes to beaches, La Digue has more than its fair share of showstoppers. Anse Source d'Argent is amongst the most photographed beaches in the world. It's a stunner. Here, you'll find pale pink granite boulders studded across silken powdery sands, with a clear ocean ahead of you and the untamed jungle behind. Robinson Crusoe had nothing on this. It's the stuff of daydreams and it's bound to make you swoon.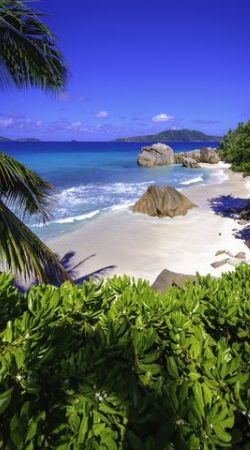 While Anse Source d'Argent is the most famous of La Digue's beaches, there are plenty more pockets of tropical beach to discover. The hidden bays and secluded coves scattered along the east coast are as close to private paradise as you can possibly get. Anse Cocos, Grande Anse and Petite Anse are all breathtakingly beautiful places to be stranded for an afternoon. Anse Patates, the island's northern most point, is superb for snorkelling while the shimmering, reef-protected sands of Anse Fourmis, Anse Banane and Anse Gaulettes are sensational sunbathing spots.
If you can bring yourself to abandon the beach for a while, La Digue's lush forests are full of natural surprises. Rambling through the jungle, you'll come across frangipani, orchids, tangled vines of vanilla, bright hibiscus, Indian almonds and overgrown takamaka trees. One of the rarest birds on earth, the Seychelles paradise flycatcher, nests here and the forest canopy rustles with the Seychelles bulbul, Seychelles sunbird, chinese bitterns, cave swiftlets and waxbill. On the ground, La Digue is home to 2 species of rare terrapin. If you're a nature lover, you're in for a treat.
La Digue is also a great place to get to know the Seychellois culture. The locals are friendly, the main mode of transport is bicycle and the Creole cuisine is a mouth-watering fusion of Indian, African and European flavours. Boats are still built using traditional methods and you can learn about vanilla farming and coconut oil production during your stay. There's no direct boat here from Mahé and this has enabled the island to preserve its time-honoured ways without a heavy tourist influx. It's a real lesson in leading the tropical simple life.
If you're passionate about unspoilt places, La Digue is the island for you. It's a wonderful base for exploring the small satellite islands of the Seychelles, including Félicité, Grande Soeur, Cousine, Curieuse and the fairytale Île Cocos. Alternatively, if you're staying on Praslin, you can hop over to La Digue and maroon yourself on Anse Source d'Argent for the day. If you're in Seychelles, it's somewhere that you can't afford to miss.