A secluded slice of paradise
Desroches Island is the perfect place to live out all of your desert island daydreams. One of Amirantes islands in the Outer Seychelles, around 230 km southwest of Mahé, it is a secluded slice of paradise that will sweep you off your feet. Measuring only 6 km long by 3 km wide, Desroches is petite in size but packed with charm. It's the very definition of 'getting away from it all'.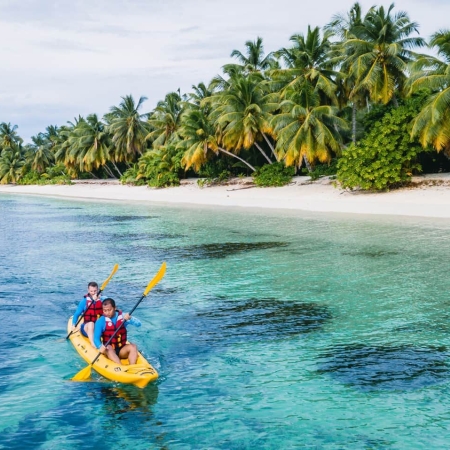 Ringed by 14 km of pristine, pearly beaches and lapping azure waves, Desroche is a dreamy place to take a dip in the Indian Ocean. The island sits at the southern tip of an atoll-style coral reef and its clear waters are perfect for swimming, snorkelling, stand up paddle boarding, kayaking and diving.
With 15 classified dive sites, divers can explore an underwater maze of sea caves and meet a mind-boggling selection of marine life. Nearer the surface, the snorkelling is superb with regular spottings of hawksbill and green sea turtles.
Avid anglers can try their hand at deep sea fishing for tuna, wahoos, marlin and sailfish, while sun worshippers can stretch onshore in the sunshine.
Do as little or as much as you like on Desroche - it's completely up to you.
To reach the island, you'll need to take a quick 35 minute scenic flight from Mahé. When you get there, simply kick off your shoes, order a cocktail, tuck into some delicious spiced fish wrapped in a banana leaf and watch the sun sink into the Indian Ocean.
It's a pinch-me paradise that will provide memories to last a lifetime.