Kenya
Safari and Beach Holidays in East Africa's most popular destination
Where in the world can you...Enjoy a truly phenomenal wildlife safari? Relax on tropical palm-fringed white sandy beaches while listening to the gentle sound of the enticingly warm Indian Ocean lapping the shoreline? Experience timeless ethnic tribal cultures which have somehow managed to remain unchanged by today's modern world?
The answer is, of course, Kenya. Travel Butlers can help you plan and book your safari holiday to this fascinating country, which will be individually tailored to your own particular interests and budget. We can take care of everything - from when you arrive at the Jomo Kenyatta International Airport in Nairobi, or Mombasa's Moi Airport, to when you unwillingly have to leave.
One thing you can be sure of is that whenever you visit Kenya, you will return home with endless memories that will last a lifetime - or at least until your next visit!
Reload Map
Kenya's Highlights.
The Safari Experience
The Masai Mara (also spelled Maasai Mara) is probably the most well-known safari destination in Kenya. It conjures up romantic images of vast open golden savannah grasslands teeming with wildlife, and of course, it is also where the greatest natural wildlife event occurs - the famous Great Migration.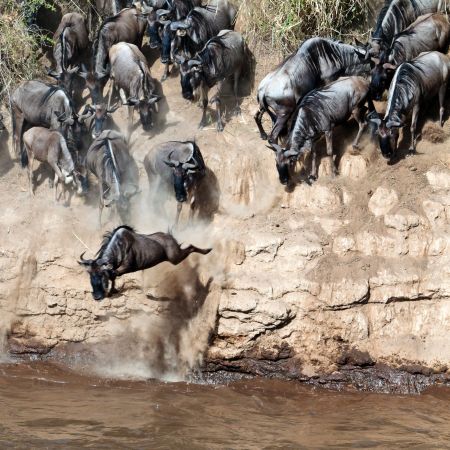 Every year, over 1.5 million wildebeest, 200,000 zebras and 350,000 gazelles congregate on the Serengeti plains in Tanzania, and make their way clockwise en mass on a 1,800 round mile journey to the Masai Mara in search of greener grazing land, before returning southwards again.
A Kenya safari holiday may also include a couple of nights in the Amboseli National Park, just south of Nairobi and in the shadow of Mount Kilimanjaro. Amboseli is most famous for its large elephant population, especially the old bull elephants with their enormous tusks.
The incredibly scenic Laikipia Plateau, just north of Mount Kenya, is an exclusive safari destination, as it consists primarily of large private conservancies and ranches. The draw of a safari here is that the region is one of the last remaining places in Africa which is home to the endangered black rhino.
The remoteness of the Samburu Eco-System, which includes the Samburu, Shaba and Buffalo Springs National Reserves, is one of the main attractions of going on safari here, as you will be one of just a few visitors who come to enjoy the rich wildlife and birdlife, including some species which are unique to the area, such as the gerenuk (or the 'giraffe necked antelope' because of its propensity to stretch high into the bushes in search of food).
The Meru National Park is most famous for being where George and Joy Adamson raised and then successfully released their pet lioness, Elsa, back into her natural habitat in the African bush – now immortalised in the book Born Free and the award-winning film of the same name, starring Virginia McKenna and Bill Travers. Aside from Elsa's grave, the Park is also home to a wide range of wildlife and about 280 bird species.
The Tsavo National Park is the largest National Park in Kenya. Within a few hours drive of Mombasa, it is an ideal destination for anyone wanting to easily combine the experience of going on a safari with some relaxing beach time.
The Kenyan Coast
A wonderful way to either start or end your holiday to Kenya is to relax for a few days on one of the white sandy beaches, getting up only to stretch your legs as far as the warm waters of the Indian Ocean in order to cool off from the hot African sun.
Mombasa is the 'beach capital' of Kenya, but there are also more exclusive and quieter beach destinations which are further north and south along the Kenyan coastline.
Tribal Culture
There are over 40 different ethnic African groups in Kenya, and the most well-known ethnic tribe are the Maasai - semi-nomadic people charactised by their tallness, bright clothing and coloured beads, stretched earlobes, and the strange warrior jumping dance, in which the young morani (warrior-youth) will jump high into the air from a standing position, demonstrating to the others his strength and agility.
Today, the Maasai tribe remain relatively untouched by the modern world – their daily lives still centre around their cattle, which is not only their primary source of food, but also fundamental to other aspects - they use the cattle dung to plaster the walls of their huts; brides are 'bought' with cattle, demonstrating the wealth of a family; cattle blood is used in certain sacred ceremonies; and the cattle hides are used to make shoes, mattresses and other items.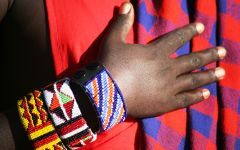 YELLOW FEVER
Kenya falls into the Yellow Fever region in Africa. It is imperative for all travellers to obtain a Yellow Fever vaccination no less than 10 days prior to travel.
A valid Yellow Fever certificate is required for all travellers over one year old. Your country of origin and other African countries like South Africa and Tanzania will also deny re-entry without the vaccination, after having visited a country with Yellow Fever.