White sandy beaches and swaying palm trees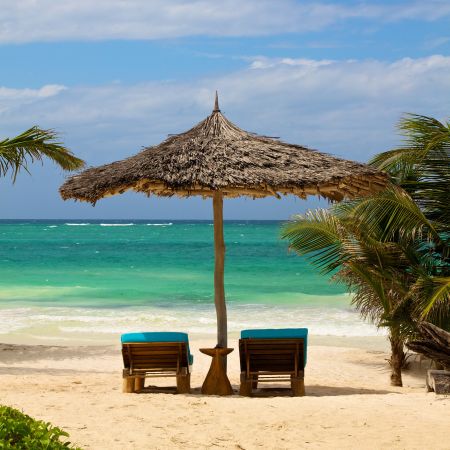 Kenya may well be one of the safari 'capitals' of the world, but everyone also needs time to relax and recharge either as soon as they step off the plane in Nairobi, or after a hectic week on safari chasing Africa's big game over dusty savannas.
And what better way to do this than on one of Kenya's many beautiful white sandy beaches. Fringed by swaying palm trees on one side, and the warm Indian Ocean on the other, the shoreline is lined with coral reefs, making Kenya also a superb destination for watersport and diving enthusiasts alike.
Just 40 km south of Mombasa are Galu Beach and Diani Beach, which are extremely tranquil beach destinations and Kenya's very own 'Maldives' paradise. The whole area is surrounded by holy forests and sacred land, which can be explored via a network of walking and biking trails.
North of Mombasa, the Lamu Archipelago is a small collection of remote, quiet islands, offering a true escape from the busy world. Many of the islands here have Swahili ruins dating back to the 14th century, making an interesting day trip if and when you wish to leave your sun lounger for a few hours.