Tropical white sand beaches and swaying palm trees
Kenya may well be one of the safari 'capitals' of the world, but everyone also needs time to relax and recharge after a hectic week on safari chasing Africa's big game over dusty savannas.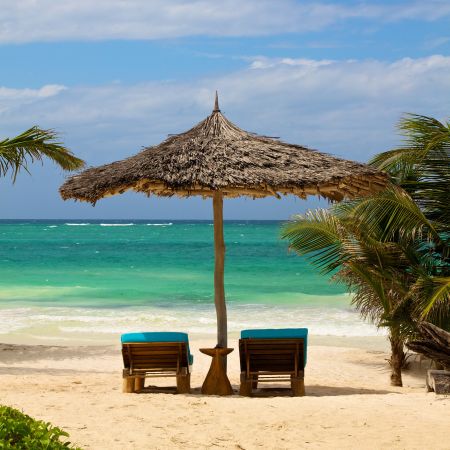 And what better way to do this than on one of Kenya's many beautiful white sandy beaches. Fringed by swaying palm trees on one side, and the warm Indian Ocean on the other, the shoreline is lined with beautiful coral reefs, making Kenya also a superb destination for watersport and diving enthusiasts alike.
But there is more to the coastline than just miles of endless beaches. You also have historic ruins, Swahili culture, mangrove forests, and even the chance to go on a day safari to a nearby game reserve if you either miss the wildlife so much or you don't have the time or the budget for a full on safari in a National Park.
Whether you are combining a beach stay with a safari, or you just want a pure out-and-out beach holiday with nothing to do apart from relax and enjoy the sun, sand and sea, the Kenyan coast makes a great choice.
Mombasa
Located near the Equator, Mombasa has long since been associated with a Kenyan beach holiday, and is a favourite package holiday destination.
Kenya's oldest (believed to be circa 900 AD according to Kenya school history books) and second largest city (after Nairobi) itself is located on Mombasa Island, which is separated from the mainland by two creeks but connected by bridges which cross to the northern coastline, and by a ferry crossing to the southern coastline.
Mombasa Island is home to East Africa's largest port, which is where the holiday cruise ships dock, but the Moi International Airport (airport code MBA) is situated on the mainland - so if you are looking just for a beach holiday, then this is where you would ideally fly into and out of. Ethiopian, Kenya Airways, Lufthansa and Turkish Airlines to name a few all have daily flights into and out of Moi Airport.
Some of the main attractions of a city tour include the historical Fort Jesus, built by the Portuguese in the 16th Century, wandering the bazaars and winding alleys of the 'Old Town' in search of souvenirs and ancient architecture, and viewing the famous Mombasa Tusks - two enormous sets of tusks over each side of the road leading from the port into the heart of the town and which were built to commemorate the visit of Queen Elizabeth II in 1952.
Just under 100 km from Mombasa, Tsavo National Park is perfect for anyone looking to easily combine just one or maybe two nights on safari with a longer beach stay on Kenya's coastline.
Nyali Beach
Nyali Beach is the nearest beach to Mombasa Island - a mere 5 km away and situated on the northern mainland coastline - and many hotels and resorts are found here. The calm waters, protected by a coral reef, invite watersport enthusiasts to try a vast range of activities including windsurfing, scuba diving, kite surfing, stand up paddle, jet skiing, water skiing and sailing, and for the less adventurous, head out on a glass bottom boat excursion or a sunset dhow cruise. You can also visit Mamba Village - East Africa's largest crocodile farm - which offers daily informative tours.
Watamu and malindi
Leaving the busy Nyali beach area, if you continue to travel along the coast you will get to Watamu - a small town about 90 km north of Mombasa. Located in the Watamu Marine National Park, this is considered one of the best diving and snorkelling areas along the Kenyan coast. The crystal clear waters reveal a multitude of colourful coral and tropical fish, but for those who prefer to keep their toes buried in the beautiful white sand, there are many excellent hotels to choose from along this stretch of coastline.
If you are looking for a cultural excursion, then the atmospheric Gedi ruins are worthy of a visit - an abandoned 13th Century city set deep in the middle of a tropical forest.
Next along the coast is the small but lively town of Malindi, 30 km further along from Watamu. Dubbed 'Little Italy' because of the large number of Italian tourists that flock here, the beautiful palm-fringed tropical beaches are dotted with hotels, and the Malindi Marine National Park is another mecca for divers and snorkelling enthusiasts.
Lamu
Heading further north, you reach the Lamu Archipelago - a small collection of remote, quiet islands offering a true escape from the crowds after an exciting Kenyan safari. The main islands that visitors will encounter are Manda Island (home to the tiny Manda/Lamu Airport which has daily flights to and from Nairobi) and Lamu Island. Both islands are home to some superb hotels, and offer a tranquil, relaxing and peaceful end to any safari holiday.
A UNESCO World Heritage Site, the historic Lamu Old Town is located on Lamu Island, and is one of the best preserved and oldest Swahili towns in East Africa, dating back to the 14th century. Accessed only by boat, you can explore the narrow bustling streets and markets on foot or on a donkey (as the island has pretty much zero motorised transportation aside from a few motorcycles), stopping to absorb the impressive buildings and ornate wooden doors which have a combination of Swahili, Arabic, Persian, Indian and European heritage.
Diani Beach
Heading south now from Mombasa, and travel for 30 km and you get to Diani Beach - otherwise known as Kenya's very own 'Maldives' paradise.
Possibly the most well-known and popular beach destination in Kenya, Diani has been consistently voted as being one of Africa's leading beach destinations. The endlessly long and beautiful 17 km stretch of flawless white sand beach is flanked by tropical lush greenery on one side and the warm Indian Ocean on the other, and is just begging you to stretch out on a sun lounger and soak up the African sun.
Diani boasts a wide range of beachfront hotels and resorts, so there is somewhere here for everyone - whether you are a couple, on honeymoon or travelling with your family, and whether you are on a modest budget or you are looking for 5* luxury.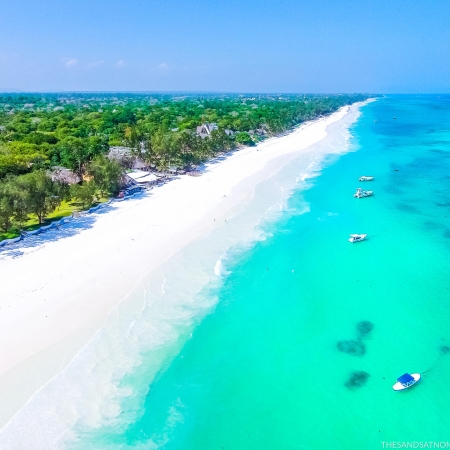 There is plenty to do here too - water enthusiasts can enjoy windsurfing, kite surfing, water skiing, diving, snorkelling, jet skiing, sailing and kayaking. For the more adventurous, try your hand at sky diving or explore the surrounding holy sacred forests via the network of walking and biking trails. Foodies will enjoy the local cafes and restaurants serving fresh Swahili dishes and freshly caught seafood platters. If you want a gentle safari experience, the nearby Shimba Hills National Park is home to the endangered sable antelope as well as elephant, monkeys and forest birdlife. Or just relax on a dhow cruise or glass bottom boat and enjoy the beautiful underwater world as it unfurls before you.
Diani's local airstrip at Ukunda has daily flights from both Nairobi and the Masai Mara, making this an easy destination to combine with a Big 5 safari.
Galu Beach and Kinondo Beach
If you continue southwards down the Kenyan coast, Diani Beach turns into Galu Beach, where the unspoilt white sand beach continues and eventually becomes Kinondo Beach.
Msambweni
Msambweni is a quiet stretch of the coastline about 45 minutes south of Diani. It is home to a select handful of accommodation options, all offering a lovely private beach stay where you can really get away from it all, with just the beach and the ocean for company.
Funzi Island
For a real escape from the crowds, head to Funzi Island - reached only by boat, the mangrove covered islands here are home to pristine beaches as well as being a nesting site for a variety of sea turtles.
Whale Sharks
Kenya's coastline is one of the best locations to encounter a whale shark. These slow-moving gentle giants of the ocean can grow up to 12m but the largest whale shark was documented at being nearly 19m - hence their name 'whale' meaning they are as large as some whale species.
A whale shark's mouth can stretch to 4 feet wide and contain over 300 rows of tiny teeth but they are filter-feeders - meaning despite the number of teeth, they can neither bite or chew. Their diet consists mainly of small shrimp, fish and plankton which they suck in through their gills along with up to 6,000 litres of water an hour.
September to October and January to February are the best times if you are keen to dive or snorkel with this amazing species, as the seas are clear with great visibility and the first of the migratory whale sharks are arriving.