A trio of National Reserves in the north of Kenya
The Samburu Eco-System is made up of a trio of adjoining National Reserves – Samburu, Shaba and Buffalo Springs. Located in the northern part of Kenya, it is a fairly remote area which means the 3 reserves here are not as busy as other safari destinations in Kenya. Most of the lodges and safari camps are in the Buffalo Springs and Samburu National Reserves.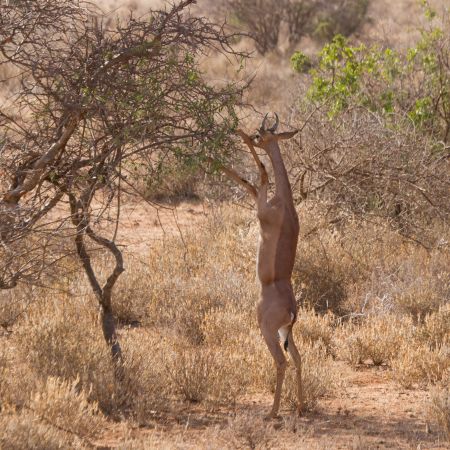 The Ewaso Nyiro River is a permanent water supply for the wildlife in the area, and it acts as a magnet, making this a great safari destination for people who want to get away from the crowds.
Lion, cheetah and leopard can often be seen on game drives, as well as elephant, hippo, and buffalo. Giraffe, waterbuck and zebra wander the open plains, alongside gerenuks – rather odd looking members of the gazelle family, who are easily distinguishable by their extremely long necks and their ability to stand on their hind legs to reach high into bushes in order to skim the leaves off the branches with their rough tongue.
The river itself is home to a large number of Nile crododiles too. Over 365 bird species have been identified, including secretary birds, sunbirds, bee-eaters and the blue necked and legged Somali ostrich.
Some of these animals make up the 'Samburu Special Five' which can only be seen in northern Kenya – the Somali ostrich and the gerenuk are both members of this group, but the Special Five also includes the reticulated giraffe, Grevy's zebra and the Beisa oryx. The reticulated giraffe has very distinct markings, the Grevy's zebra has very narrow stripes which stop at the belly and at the tail.
Some lodges here also offer the unique safari experience of viewing game from atop a camel.
The Shaba National Reserve takes its name from Mount Shaba, which is an extinct volcano that lies on the border of the reserve. The reserve has also taken its place in Kenya's history as being where Joy Adamson's body was found. Joy Adamson achieved world-wide fame from her best-selling book and film of the same name 'Born Free', about the successful rehabilitation of her pet lioness Elsa - however it was in Shaba that Joy not only met her untimely death, but had also released Penny the leopard cub back into the wild - the true story which is told in 'Queen of Shaba', Joy Adamson's posthumous and final book.