Gorillas And Chimpanzees, Safari Parks And Lake Victoria
Many people will think of Uganda as a one-stop destination to tick off a major bucketlist activity - the privilege of seeing an endangered mountain gorilla in the wild.
But there is more to Uganda than gorillas - from the shimmering shores of Lake Victoria, to tracking chimpanzees in Kibale, visiting the spectacular waterfall of the same name in the Murchison Falls National Park, or going on a game drive in the Queen Elizabeth Park to try to spot the famous tree climbing lions - there is plenty to do and the country is well worth an extended visit - indeed, it can easily make up a 10-14 night entire holiday.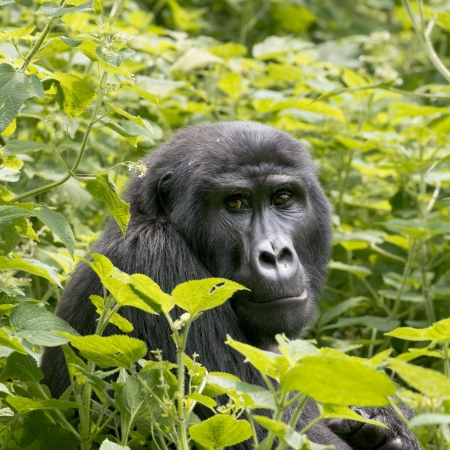 Uganda today is still not really part of the traditional 'safari' circuit, so you can expect to see more wildlife than other tourists, leaving you feeling as if you have found your own private piece of safari paradise.
For birders, the country is also home to over an astounding 1,060 bird species including the megatick shoebill and the African Green Broadbill. Even if you are just an occasional twitcher, you will be amazed and delighted by the variety and the beautiful colours of the many birds you will encounter during a holiday here.
Trekking Gorillas
Uganda is home to more than half of the world's population of rare Mountain Gorillas, and there are two National Parks here where visitors can track these gentle giants and come face-to-face with a huge silverback gorilla in the wild.
The fantastically named Bwindi Impenetrable Forest National Park is home to around 50% of the world-wide population of Mountain Gorillas, and as such it is the most popular destination for visitors wanting to track gorillas in their natural habitat.
The lesser known Mgahinga Gorilla National Park is located in the southwestern Uganda on the border with Congo and Rwanda, and is home to just one gorilla family.
Visiting Uganda
Uganda is a completely land-locked country, and is surrounded by South Sudan in the north, Kenya to the east, Tanzania and Rwanda to the south, and the Democratic Republic of the Congo (DRC) to the west. The country as a whole is approximately 241,550 square km in size - so about the same size as the UK, and sits on the equator.
Incredible scenery awaits you throughout your stay anywhere in Uganda, whether you travel around the country by road with a driver-guide or you fly by light aircraft from destination to destination.
The country is serviced by international flights operated by many carriers including Kenya Airways, Ethiopian, Emirates, Qatar, KLM and Airlink, so it is a relatively easy country to get to. The international airport is at Entebbe (airport code EBB) which sits on the shores of the vast Lake Victoria and is an easy 45 minute drive south of the country's capital city of Kampala.
Uganda has many indigenous languages, but English is widely spoken throughout as this is the official language.
Gorillas and the Great Migration
If you are really on the bucketlist challenge, with careful planning you can work your holiday so that you combine seeing the gorillas with also seeing the Great Migration in neighbouring Tanzania or Kenya. January or February, the migration is in the Southern Serengeti; August/September you need to head to Kenya's Masai Mara.
And of course, there is also the opportunity to cross the border into neighbouring Rwanda to trek their gorilla families in the Parc National des Volcans.
Uganda's National Parks
Uganda is home to 10 National Parks in total. Whilst first-timers to the country will no doubt visit Bwindi to see the gorillas, many first timers will extend their trip to include the Queen Elizabeth National Park, Kibale and maybe even Murchison Falls.
For second-timers looking for something more from the country, a visit could also include:
Rwenzori National Park - permanent snow-covered mountains, offering wonderful hiking opportunities
Mount Elgon National Park - sitting on the Uganda/Kenya border, Elgon's highest peak - Wagagai - is Africa's 8th highest mountain, and you can climb to the summit in a day if you are fit!
Mgahinga Gorilla National Park - home to one habituated gorilla family only, you may also be lucky to see the rare Golden Moneky on your trek through the forest.
Kidepo Valley National Park - situated in the far north-east of the country, the Park borders both Kenya and South Sudan and is home to a healthy lion populatin as well as elephant, buffalo, Rothschild giraffe, kudu and Uganda kob.
Semliki National Park - bordering the DRC and Lake Albert, the Park's rainforests are home to a wealth of wildlife including the Water Chevrotain deer, Uganda kob, leopard, elephant, hippo, chimps and shoebill.
Lake Mburo - a perfect stop over if you are driving between Kampala/Entebbe and Bwindi, this small Park offers a diverse range of activities such as horse safaris, game drives, night drives, mountain biking, walking safaris and boat cruises.
Looking for more Adventure?
A popular extension to any trip to Uganda for anyone looking for a final adrenelin burst at the end of their holiday is at Jinja, which is less than 3 hours from Kampala. Here, at the very source of the Nile, you can do a range of heart-thumping activities such as white water rafting, bunjee jumping, boat trips, quad biking, horse safaris and kayaking.