Home to 50% of the world's mountain gorillas
The Bwindi Impenetrable Forest National Park is home to around 50% of the world-wide population of mountain gorillas. When you get to sit with a family of gorillas in the wild for an hour, and make eye contact with one of them, this will be one of the most memorable, exciting and poignant wildlife encounters you will ever experience - a true bucketlist tick.
This dense, ancient forest, with its misty rolling hillsides, is truly a scene from 'Gorillas in the Mist' and is everything you would hope your gorilla experience to be - and this will be before you even start on the trek! A UNESCO World Heritage Site, the Park covers an area of 331 square kilometres in the south-western corner of Uganda.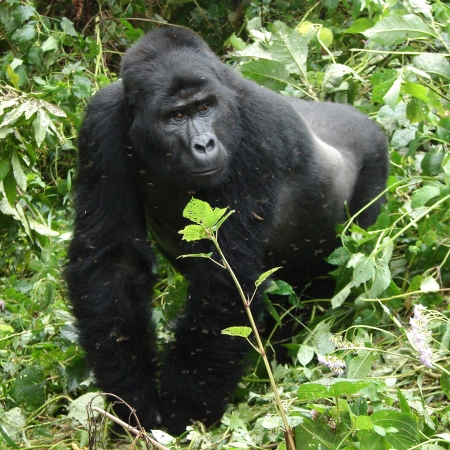 The Park has a small number of habituated families of gorillas spread across the Park. Gorilla trekking can be done in one of the Park's 4 regions - Buhoma in the north of the Park, Ruhija in the east of the Park, Rushaga in the south of the Park, or Nkuringo in the east of the Park. Visitors will be put into groups of 8 people maximum, and each group will be allocated a gorilla family to trek to find.
There are rangers out in the Park all the time, who monitor where the different families are, so they have a rough idea of how long it should take for each group to get to their allocated family - but of course, the gorillas can move around so it is not an exact science! The rangers are in touch constantly with the guide leading each group, so the chances of finding your family are high - although nothing of course can be guaranteed.
The Buhoma region is the most visited area, and home to some excellent accommodation options such as Buhoma Lodge, Mahogany Springs, Sanctuary Gorilla Forest Camp and Bwindi Lodge. If you are trekking in the Buhoma region, registration commences around 07:30 and you then meet your forest guide for a pre-trek briefing at 08:00. Depending on which family you are allocated, you will start walking from the briefing point or be transferred by vehicle to an alternative start point. If you are trekking a gorilla family in the Ruhija region, it is approximately a 1.5 hour drive from the lodges in and around Buhoma to the Ruhija trek starting point.
In the Nkuringo region, you can stay at the beautiful Clouds Mountain Gorilla Lodge, just a short walk from where you start your trek.
Wherever you do your trek, the opportunity to come within meters of these magnificent apes and watching them go about their normal day-to-day activities is a magical experience that you certainly will not forget in a hurry!
Gorilla trekking can be strenuous, with treks ranging from 30 minutes up to 4-6 hours, and also at high altitudes - the Park is between 1,160, and 2,600 m above sea level. Especially during the wet season, the ground underneath can get very slippery and muddy, making the trekking more difficult, but porters are on hand to assist you through the tricky areas. An average level of fitness is ideally required, and you have to be aged 15 years and older.
Once you find your alloted gorilla family, you have one hour with them and you have to keep a distance of 10m away - so if a curious baby gorilla starts to approach for a closer look, the guide will make you back up! You are also asked to wear a face mask throughout the gorilla encounter.
For more information on what to expect from a trek, what to take, and what you can and cannot do when you finally find your gorilla family, please click here.
How much does it cost?
The cost per person of a gorilla permit is currently USD 700 per person per trek (subject to change). Most of the cost of a permit goes towards gorilla conservation.
Habituation Experience
The Gorilla Habituation Experience is an incredible experience which differs from normal gorilla trekking in that a maximum of 4 people participate in the 4 hour Habituation Experience, which can involve more strenuous trekking at elevations of up to 7,500 feet. A couple of gorilla families have been set aside for the habituation experience and they are located in the Rushaga region of the Park.
It takes between 2 to 3 years to habituate a gorilla family, and during this time researchers visit the families on a daily basis, observing and recording their behaviour. These gorillas are now only semi habituated, used to rangers and researchers but not tourists, and they may behave in unpredictable manners, in which case the experience will be stopped.
Since gorillas build new nests every night, you won't necessarily get more time with the gorillas, as you join the trackers right from the start and find the families with them (unlike traditional trekking where the trackers find the gorillas ahead of time for visitors).
The cost of this experience is USD 1,500 per person (current cost and subject to change).
Not Just About the Gorillas
Whilst undoubtedly the gorillas are the prime reason to include a stay at Bwindi on a holiday itinerary, there are other attractions too. The forest is home to over 350 species of birds and 120 other wildlife species including elephants (although rarely seen), black and white Colobus monkeys, red-tailed monkeys, bushbuck, duiker, L'Hoest's monkeys, and baboons. There are also 200 butterfly species.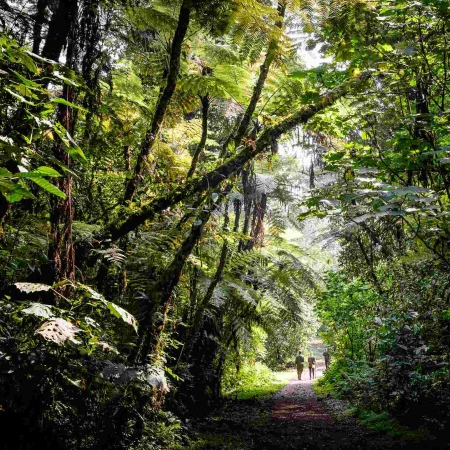 In addition, after a morning trekking the gorillas, there are afternoon activites such as forest walks, mountain biking, waterfall trails, and local community school and village visits. But one activity not to be missed is the Batwa tribe visit.
The Batwa Pygmies have lived in the Bwindi forest for over 5,000 years. They are renowned storytellers and dancers, and were honoured in the courts of the Ancient Egyptians. They believe in a legend passed down generations that their god Nagasan charged them with the responsibility of being the 'Caretakers of the Forest'.
You will learn from them how their ancestors survived in the forest as hunter-gatherers - what they ate, how they hunted, the plants and herbs they used, how they dance, sing and socialise; listen to their fascinating stories and legends; test your bow and arrow skills; participate in a mock hunting party; and bask in the singing and dancing of the tribe when you return as successful hunters. It is an unforgettable experience.
How Long?
Most people will stay 2 to 3 nights. A 2 night stay gives you the opportunity to do one gorilla trek; a 3 night stay gives you the chance to repeat the experience again the next day. If you have the time and the budget, then staying 3 nights is absolutely ideal to really maximise this once-in-a-lifetime experience.
Getting Here from Kampala or Entebbe
From either Kampala or Entebbe, it is about a 9 hour scenic road transfer, so most visitors will fly from Entebbe by light aircraft to either Kihihi or Kisoro, where you are then met by your lodge and transferred by road to your accommodation.
If you do decide to do the journey by road, most people will break the drive with an overnight stop at Lake Mburo en-route - whilst this does add an extra night onto your holiday itinerary, it is an excellent way to see more of the beautiful Ugandan countryside.