Exotic Beaches & Spectacular National Parks
Mother Nature smiled down upon Seychelles and nowhere is this more obvious than Praslin. Blessed with cool white sands that slip gently into a clear, shimmering ocean and a wild tropical interior full of wow factor, if you're looking for hidden tropical heaven, you've found it.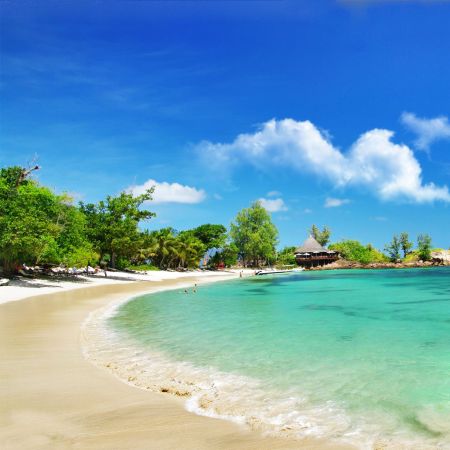 Praslin is the 2nd largest island in Seychelles, yet you can cover its entire circumference by car in 2 hours.
However, for an island so small in size, Praslin packs a huge punch.
Beautiful Beaches
Two of the beaches on the island rank among the world's top stretches of sand, making it officially one of the planet's most postcard-worthy places.
The beaches that fringe its shores are unsurpassed, with soft ivory sands and calm, azure waters. Anse Lazio and Anse Georgette frequently pick up awards for their stunning natural beauty and the second you arrive you'll see why. Think gently rustling palms, takamaka trees and warm crystal-clear seas. It's the desert island of your daydreams - only better.
Cote D'Or, another extraordinary expanse of sand, was once a pirate stronghold, and there's more than a touch of Treasure Island about Praslin. With castaway coves and coconut groves, it feels like a secret smuggler's paradise. The beaches are safe for swimming and offshore, the turquoise waters are teeming with living coral and over 900 species of fish, making it a superb spot for snorkelling. The diving is every bit as good as the snorkelling - just keep your eyes peeled for buried treasure!
Vallée de Mai
Beyond the beaches, the Vallée de Mai, a UNESCO protected forest up in the highlands of Praslin, is nature at its most mind-boggling and breathtaking. When General Gordon of Khartoum visited here over 100 years ago, he was convinced that he'd found the Garden of Eden. It's easy to see why.
It's one of only 2 places in the world where you can see giant coco de mer palms growing in the jungle (the other is Curieuse Island, also in Seychelles). The coco de mer is the world's heaviest nut and its mammoth palm trees grow leaves reaching over 30 metres long! Not only this, but it's shaped like a lady's pelvis, so it's also the world's most suggestive nut! So, in Seychelles, even the coconuts are sexy! It's something bizarrely beautiful to behold.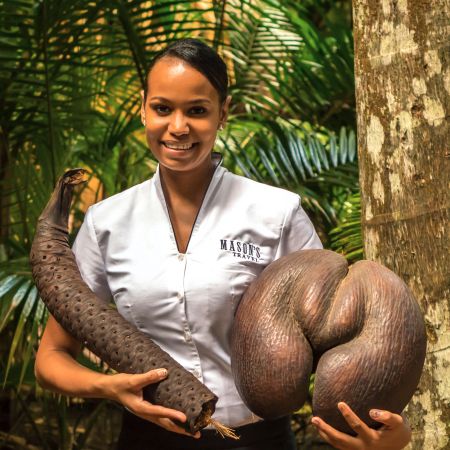 While the coco de mer is the crowning glory of Praslin's natural world, the island has plenty more fantastical flora and fauna in store. Along the shady trails that criss-cross the Vallée de Mai, you'll see insect-eating pitcher plants, fragrant vanilla orchids, 6 species of palm tree and some of the world's rarest birds - the Seychelles black parrot, the Seychelles bulbul and the fruit pigeon.
Your Very Own Desert Island Adventure
If you're after a desert island adventure, Praslin makes a brilliant base. Just 15 minutes by air from Mahé, or one hour by sea, it's an easy access paradise that is perfect for short stays in the islands.
From Praslin, you can take day trips to neighbouring islands such as La Digue, Cousin, Felicité and Curieuse, all famous for their beautiful birdlife, sea turtles and pristine coral reefs - not to mention their gorgeous beaches!
Alternatively, if you're staying on another Inner Island, such as Mahé or La Digue, you can pop over to Praslin for the day.
Either way, it's a Seychelles must-see.