The heart of the Seychelles
Mahé may be the largest island in Seychelles, but measuring only 28 km by 8 km, it is still perfectly petite. If you're only spending a few days in the Seychelles, Mahé is a great choice. It's got it all - great beaches, stunning wildlife, spectacular scenery, quirky local culture, the international airport and delicious local cuisine. It is also a natural hub for day tours to the surrounding islands and a gateway for all kinds of adventures.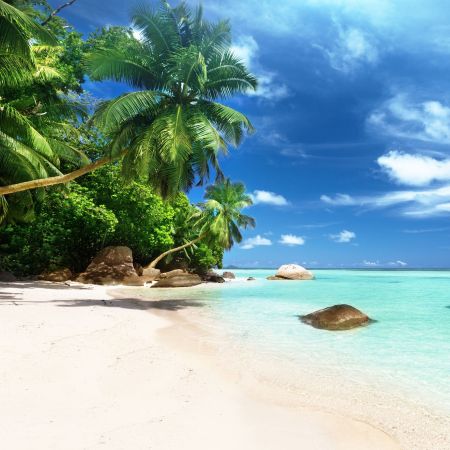 Over 85% of the entire Seychellois population lives on Mahé, yet, despite this, Mahé remains a sleepy island with a lush, wild rainforest interior, towering granite peaks and sparkling sweeps of white sand that will leave you speechless. Despite being the most densely populated island in the Seychelles, Mahé is by no means crowded.
Beaches Galore
Wherever you go, a beautiful beach will be no more than 15 minutes away - so there is a lot of choice!
Beau Vallon is the best known and is the island's main aquatic water sports centre, offering both motorised and non-motorised watersports, including parasailing, skiing, jet skiing, windsurfing and banana rides.
Grand Anse on the west coast is one of the longest beaches on the island and is good for swimming and surfing.
The picturesque Anse Takamaka in the south-west corner of the island is a perfect spot for snorkelling. The beach gets its name from the stunning takamaka trees that line the shoreline and which can grow to over 20m in height.
For those looking for an exciting story while enjoying a spot of swimming, windsurfing or sunbathing, the half-moon bay and beach at Baie Lazaire is not only named after the French explorer Lazare Picault, who first claimed Mahe for France back in 1742, it is also where some buried pirate treasure was discovered.
The Port Launay National Park has not one but 8 beautiful beaches within it's protected area. The reefs on both sides of the bay mean that this is an ideal snorkelling spot.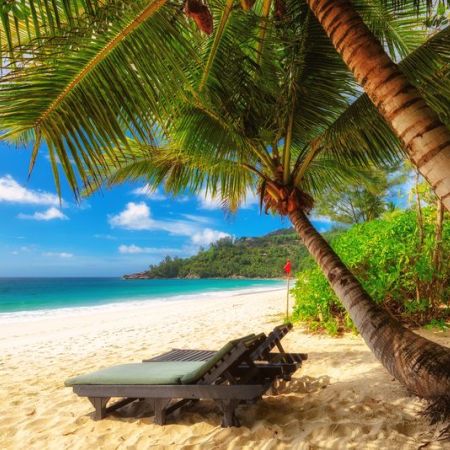 It is Not Just About the Beaches
The highest peak in the Seychelles - Morne Seychellois - is found on Mahé in the aptly named Morne Seychellois National Park which covers about 20% of the island's total area. The Park is made up of lush tropical forests and coastal mangroves as well as mountains.
Walking trails and well marked routes make this a mecca for anyone interested in some exercise or to have a change of scenery from the pool or beach. For the experienced hiker, climbing the 905m Mourne Seychellois promises fantastic views once at the summit.
The forests here are also home to some cultural sites as well as some truly extraordinary flora and fauna, such as the Jellyfish Tree which is endemic to Seychelles and is one of the rarest plant species in the world - it was thought to be extinct, then a very small population of the plant was discovered on the island in the 1970s. Even if you are not a botanist, you cannot fail to be impressed by this fact!
Sainte Anne Marine National Park
The picturesque Sainte Anne Marine National Park comprises of a cluster of 6 small islands just a 20 minute boat ride from the north-east coast of Mahé and is a lovely place to spend a day. You can go snorkelling and scuba diving and marvel at the colourful coral reefs, or you may even get to swim with hawksbill turtles or watch dolphins frolick in the nearby surf. The numerous uncrowded beaches invite you to just relax and soak up the sun and there are several excellent restaurants on a couple of the islands where you can enjoy a typical Creole lunch or even a haute cuisine dining experience. To round off the day, why not visit some pirates graves and meet giant tortoises.
Victoria - the Capital City
The nation's capital, Victoria, sits on the north-east coast. Victoria is a quirky place to take an afternoon wander, with beautiful Botanical Gardens, an eclectic local market and a minature clock tower modelled on London's Big Ben.
Outside of Victoria you can visit hilltop spice gardens, stroll through tea plantations and take a tour of the island's rum distillery.
With so much to do here you will certainly find that you are spoilt for choice. Whatever you decide to do, make sure you leave plenty of time for swinging in a hammock and snoozing on the beach.