Garden Route Game Lodge
The Garden Route
Set against the backdrop of the majestic Langeberg mountain Range, the Garden Route Game Lodge guards the entrance to South Africa's world famous Garden Route Coast.
Only 3.5 scenic hours drive from Cape Town, this malaria-free, 2,000 hectare private game reserve is ideal for families wanting a short safari experience. The reserve is home to a variety of animal and bird life including giraffe, white rhino, lion, elephant, buffalo, kudu, zebra, wildebeest , and in total there are approximately 400 animals on the reserve.
Morning and evening game drives are led by experienced and knowledgeable game rangers who share their knowledge of the wildlife. Children of any age are allowed on the game drives, making this a wonderful family experience.
Children will also love the interactive tours of the Reptile Center, home to numerous snakes and crocs and the Cheetah Outreach Program where they will learn more about the worlds fastest mammal. Other facilities for younger guests include heated and cold swimming pool and 2 children's themed play areas.
The main lodge rooms combine luxury and comfort with an African theme. Complete with en-suite bathrooms, the rooms lead onto a West facing balcony which offers breathtaking African sunsets all within steps of the pool. These rooms are ideal for families and are located closer to the lodge amenities.
The luxury en-suite thatched chalets use natural materials such as thatch, stone and timber. Linked to the main lodge via a wooden walkway, these chalets offer seclusion and privacy.
Add To Wishlist
Enquire Now
Breakfast; dinner; one daily morning and one daily evening game drive; and a guided tour of the Reptile Centre and Cheetah Conservation Centre are included.
Children of any age are welcome. Rates available on request.
Guest Rating: 4.3 / 5.0 based on 4 ratings
The Garden Route Game Lodge was just right for us. The staff were so helpful and really knew their facts. They were happy to provide meals for the kids when we needed them. Although the lodge is small and only has a few of each animal the game drives were perfect for kids as we could get really close to all the animals in a short space of time which Bella loved. The food was good and rooms were a generous size. The highlight of the lodge stay and in fact of the whole holiday for us was the evening we got to feed the elephants and unexpectedly were invited to stroke the cheetah. I think we were more excited than the kids! Even Freya at 7 months old was allowed to have a tug at the poor cheetahs ears! Both experiences were dreams come true and so special for all of us. Bella even forgot how poorly she was and was running up to the elephants giving them handfuls of food and loving it!
K CARLIN
Had a fabulous time with friendly staff both on the drives and in house, would recommend it as it is fairly near Cape Town. The only suggestion would be to ask if a visit at the waterhole would provide more sighting of wildlife. Thanks for the recommendation.
N HUNT
Popular Alternatives to Garden Route Game Lodge
These are the top properties booked by people who considered staying at Garden Route Game Lodge, but for one reason or another booked a different property. It may have been that Garden Route Game Lodge was not available on the nights they wanted to stay, or they decided that somewhere else was better suited to their budget or itinerary.
If you're not sure which place might be best for your own trip then either give us a call or get in touch via the website, and we'd be delighted to run through the options with you.
Add To Wishlist
Enquire Now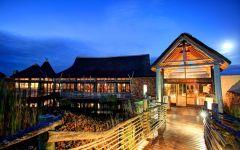 Location