Accommodation to suit everyone - families and couples alike
Bordered by both the Kariega and Bushman's River Valleys, the 11,500 hectare malaria-free Kariega Game Reserve is home to game and wildlife such as lion, elephant, leopard, rhino, hippo, giraffe, zebra, eland, wildebeest, waterbuck and a variety of antelope, as well as a myriad of bird species.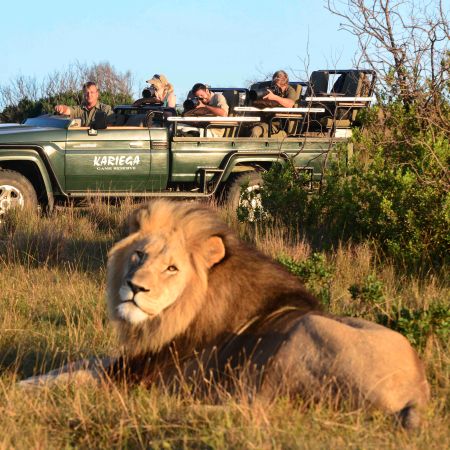 Game drives bring you close to the Big 5 of the African bush from the comfort of an open game drive vehicle.
Each day begins with a morning safari game drive into the South African bush where guests will experience the dawn of a new day as the landscape comes to life with the sunrise. During evening safari game drives, guests may be lucky enough to witness the thrill of a lion hunt, or watch as a family of hippo emerge from the water for a night of grazing. As nocturnal life begins to stir, return safely to the lodge for a hearty dinner.
Guests can complement their safari experience with a boat cruise down the Kariega or Bushmans River, where you can enjoy abundant river birdlife, or take a canoe onto the river for a quiet paddle. Inbetween game drives, well-marked hiking trails on the predator-free eastern section of the reserve offer the opportunity of walking safely amongst the game and birdlife.
There are 5 lodges situated on the Kariega Game Reserve, which between them cater for a variety of needs.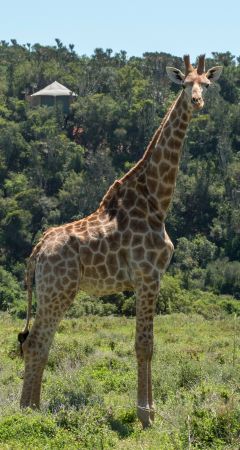 Kariega Main Lodge offers families, friends and couples a relaxed and friendly environment to enjoy the African bush. Children of all ages are welcome here, and are encouraged to enjoy morning and afternoon game drives with their parents (as well as the river cruise). For children 5 years and under, however, it is at the ranger's and General Manager's discretion as to whether they can be taken to sightings of the more dangerous Big 5 wildlife for safety reasons. There are children's activities on offer between 11:00 and 14:00 every day, which include guided trails within the boundaries of the lodge, learning how to create moulds of animal tracks using Plaster of Paris, baking, and general arts and crafts activities.
The Homestead is a private lodge, which offers its guests all the comfort, convenience and privacy of their own home. With dedicated hosts, game ranger and cook, guests have the flexibility to plan their day according to their own specific needs. The Homestead is set in a remote and private part of the reserve. With seven spacious bedrooms, all en-suite, a bar, swimming pool, satellite TV, playroom for children and spectacular views, it is the perfect lodge for the sole use of a group or family of up to 14 persons.
Settlers Drift, Ukhozi Lodge and River Lodge are ideal for couples looking for a relaxing safari experience, as children under 11 years old cannot be accommodated at these lodges. Settlers Drift is a unique tented camp offering 5* luxury. Ukhozi Lodge has just 10 luxury suites, each offering complete privacy with their own breath-taking vistas and private plunge pools. River Lodge is nestled on the banks of the Bushmans River, and is unique in that the optional daily boat cruises can ferry guests through the quaint village of Kenton-on-Sea and onto the picturesque beaches here for a beach/safari combination.