game Drives, river cruises and beach walks
Covering some 3,000 hectares in the Eastern Cape of South Africa, Sibuya Game Reserve is one of the most unique safari destinations in the country.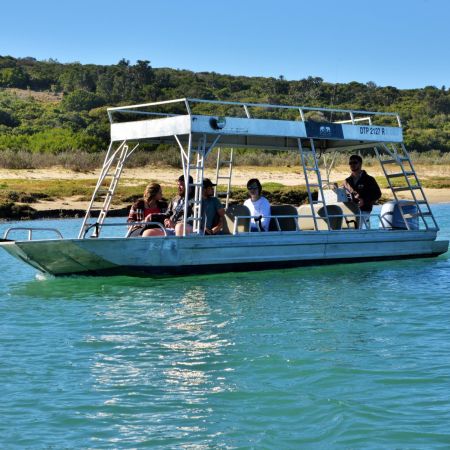 Beginning with an 11 km boat transfer up the Kariega River Estuary, winding through heavily wooded thickets before opening out onto wide, grassy flats and sandbanks just upstream will set the tone for what will be an incredible experience.
From the Indian Ocean at the mouth of Kenton-on-Sea, to the ancient floodplains, pristine coastal forests, bushveld and grasslands, the reserve is home to an diverse range of wildlife with nearly 400 bird species and 45 species of wildlife, including the famous "Big Five". Other notable species that you may encounter out in the bush include jackals, rare oribi, bontebok, zebra, giraffe, and maybe the occasional sightings of caracals and aardvark.
Sibuya has 3 different accommodation options, River Camp, Forest Camp and Bush Lodge, each of which has its own character.
Best suited for families with young children, River Camp consists of only 4 luxury en-suite tents, hidden away in the riverine forest to offer complete exclusivity and privacy to all guests. Located on an ancient floodplain where an oxbow will one day form, the camp affords views of the river from its secluded decks.
Further up the river you will come to Forest Camp. Each of its 8 luxurious tents have are connected by meandering wooden walkways in the thick forest and feature a cosy fireplace to add a personal touch and provide comfort on the chillier nights. If you're lucky, you might even spot a beautiful Nyala antelope wandering through camp!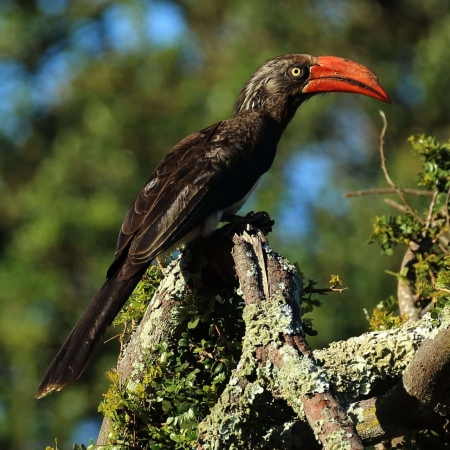 Finally, and with only 4 secluded luxury thatched suites we come to the smallest camp in the reserve, Bush Lodge. Overlooking the wooded valley below, the lodge is surrounded by spacious viewing decks and is the perfect location for both nature and bird-enthusiasts alike. In-between game drives, relax by the sparkling swimming pool and enjoy its refreshing coolness during the heat of the day. In addition, Bush Lodge is on the main electrical grid, so for those guests wanting a little more luxury and comfort in the way of electrical appliances, this is an excellent option.
Forest Camp and Bush Lodge are better suited for couples, as children less than 12 years of age cannot be accommodated at these properties.
A mixture of game drives and river cruises will allow you to take in the reserve's beauty and wildlife against the magnificent backdrop of the coastal forest and sea a few kilometres away. For the more energetic, explore the reserve by canoe, take a dip in the river or head down onto beach and take in all that the Sunshine Coast has to offer. In addition to this, deep-sea fishing, horse riding, guided bird walks and various historical and township tours can be booked in advance.
Being just 130 km from Port Elizabeth or East London, staying at Sibuya can be the perfect ending to an itinerary for anyone travelling up from Cape Town and the Garden Route.