Home to the Big 5, including the majestic White Lion
In the heart of the Eastern Cape's malaria-free game viewing region you will find Pumba Private Game Reserve, situated a mere 105 km from Port Elizabeth. The reserve stretches over an area of 6,500 hectares.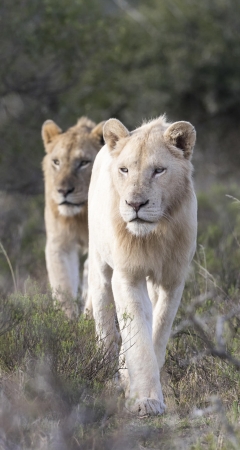 Home to the Big 5, the reserve offers visitors the chance to experience the wonders of Africa - from the graceful giraffe to the seldom seen leopard. There are also 22 species of antelope and other small game - making a total of over 60 different species of wildlife. For bird lovers, the 300+ species will delight.
And just when you think you have seen them all...there is one more beautiful species for you to see at Pumba Private Game Reserve - the endangered and majestic white lion, which will take your breath away.
There are just 2 lodges on the reserve – Pumba Water Lodge and Msenge Bush Lodge. Each lodge is uniquely different, offering luxurious accommodation and guest areas.
Dining at either lodge is a wonderful experience, as guests are treated to cordon bleu cuisine accompanied by fine wines.
For those who want to truly relax, the treatments at the Soul Spa will help to soothe your body, mind and soul. There is also a gym to help work off the delicious food!
Morning and afternoon game drives with experienced rangers get guests unbelievably close to the wildlife, and short bush walks can also be arranged.