North West Province Safaris
Malaria-Free Safaris in Madikwe and Pilanesberg
Only a few hours drive from Johannesburg are the malaria-free game reserves of the North West Province. The Madikwe Game Reserve and the Pilanesberg National Park are ideal safari destinations for visitors to Jo'burg or Sun City who want to see some of Africa's spectacular scenery and wildlife without the worry and hassle of taking anti-malaria tablets.
The private Madikwe Game Reserve is one of the largest reserves in South Africa, and offers visitors a choice of excellent lodges, coupled with daily game drives to seek out Africa's Big 5, as well as other wildlife such as wild dog, giraffe, zebra and antelope.
Pilanesberg is an attractive National Park which is centred around an extinct volcano crater. Ideally suited to self-drive visitors who are staying in either Sun City or Johannesburg, there are also a couple of private lodges and safari hotels here which offer guided game drives to their guests.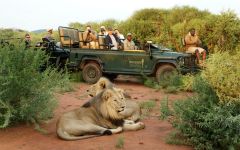 AT A GLANCE
Malaria Free Region
Big 5 Safaris
Private Safari Lodge Experience
Self Drive Option
Combines well with Sun City