Morning and Sunset Game Drives and Boat Cruises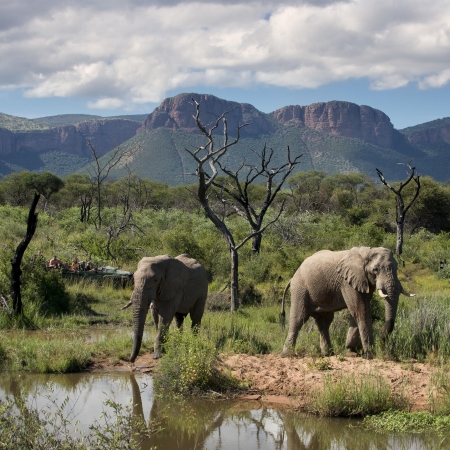 The Marakele National Park is situated just a 3.5 hour drive north of Johannesburg. Covering 21,000 hectares, this malaria-free Park is one of the most beautiful areas in South Africa. Rolling mountains, rivers, open plains and bushveld are home to the Big Five, including the rare and endangered black rhino. Abundant wildlife will please the birdwatchers on safari, as the Park also boasts the world's larges colony of endangered Cape vultures.
There are just two lodges here - Marataba Safari Lodge and Marataba Mountain Lodge - so you can be forgiven when you arrive in feeling that you are the only visitors in this scenic reserve.
Twice daily game drives in open safari vehicles led by experienced and enthusiastic rangers take you in search of the reserve's many fascinating animals.
After breakfast walks head out into the bush for up to 2 hours, where all your senses are engaged as you walk through the reserve - maybe even spotting game at eye level - an exhilarating experience!
For the more seasoned hiker looking for a challenge, the Marataba Trails is ideal - lead by expert guides, each trail lasts 3-4 hours through different areas of the reserve - along riverine routes, up and down mountain routes and through gorges.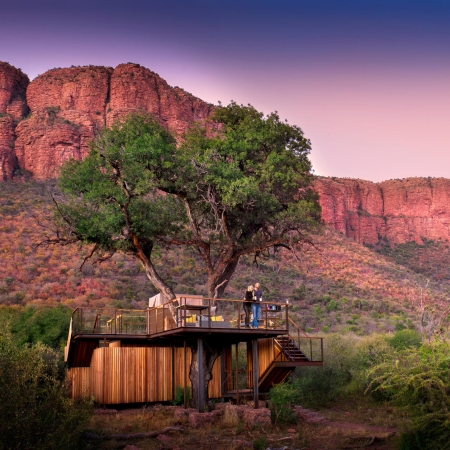 Finally, morning and afternoon sunset water safaris on the Matlabas River offer something different. Cruising slowly along the river, guests can expect to see hippo, crocodile, abundant wildlife, elephants coming down to the water's edge to drink, and maybe even lions snoozing on the river banks.
For the ultimate safari experience, guests can spend a night in the luxurious Thabametsi Tree House. Solar powered and built on two levels, the tree house has a main bedroom, shower room, and outside lounge deck with view of the Waterberg and across the vast expanse of the Park.
Guests are taken to the tree house in the late afternoon, and watch the sunset accompanied by a gourmet picnic meal and drinks selection. After falling to sleep in the sumptious kingsize bed under a canopy of stars while listening to the 'surround sound system' of the African bush, the following morning you are collected and continue on a game drive.
A radio ensures you are in constant contact with the lodge throughout your stay in the treehouse. So there is really nothing for you to worry about, so you can just sit back and enjoy the peace and the scenery for one truly memorable night.