Self-Drive and Guided Safaris near Durban
Only 280 km north of Durban, and set in the heart of Zululand, the hilly Hluhluwe-iMfolozi Park (pronounced Shoosh-Louie and formerly known as the Hluhluwe-Umfolozi Game Reserve) covers 96,000 hectares and is renowned for its variety of animal and bird life. Once used as a royal hunting ground belonging to King Shaka, the Park is the oldest proclaimed game reserve in Africa.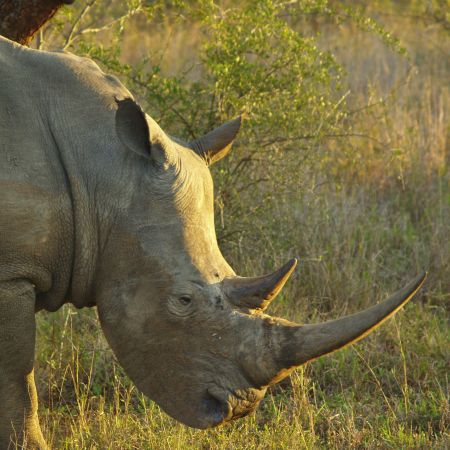 Today, cheetah, wild dog, the Big 5 (lion, leopard, elephant, buffalo and rhino) and many species of antelope and other plains game including giraffe and zebra inhabit the open plains, offering the visitor a varied self-drive or guided game viewing experience. Viewing hides overlook waterholes enabling visitors to see animals at close range. There have also been over 300 bird species recorded.
The Park is divided into two parts - the larger, more rugged Hluhluwe section in the north and the smaller iMfolozi section in the south. There are 3 main entrance gates - Cengeni Gate in the south, Nyalazi Gate in the centre, and Memorial gate in the north. Entrance fees give you access to both sections and there are no barriers dividing the Park into the two areas. Because this is a state-run Park, all visitors, whether self-driving or on a guided game drive, are restricted to the extensive road network and no off-roading is allowed.
The Park boasts one of the great success stories in the preservation of the endangered white rhino anywhere in the world, and it is practically impossible to visit here without seeing one.
During the mid 1800s, persistent hunting in the region led many to believe that the white rhino population had been hunted to near extinction. Drastic action was needed and so in 1895, the first reserve was created, with the aim of protecting the species.
The major success story, however, came much later in the 1960s with the creation of Operation Rhino, which involved successfully breeding the rapidly diminishing white rhino population back from near extinction. Through all the hardship and challenges faced, and thanks to the efforts of many hard working conservationists, this incredible species was saved. The reserve has a very effective anti-poaching unit in place to protect these still endangered animals, and Operation Rhino still continues to grow from strength to strength.
In terms of getting here, from Durban's King Shaka Airport it is about a 210 km/2.5 hour drive to the Nyalazi Gate, from Richards Bay Airport it is just over an hours drive (approximately 75 km) to the Nyalazi Gate.