Home to the 5* Luxury AmaKhosi Safari Lodge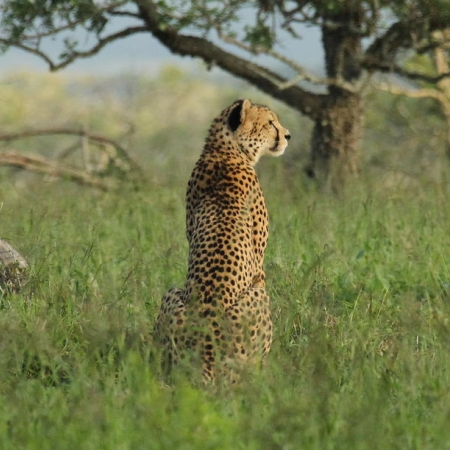 The AmaKhosi Private Game Reserve is 12,000 hectares of savanna, mountains and wetlands, which makes it the ideal home for the Big 5 (lion, leopard, buffalo, rhino and elephant), as well as giraffe, cheetah, warthog, hyena, hippopotamus and crocodile. For birdwatchers, there are no less than 400 species.
Guided game drives and bush walks take you on a journey of discovery.
From November to February each year, when the rains come, you can also go on a Frogging Safari, and discover the fascinating world of amphibians. Wearing a headlamp and gum boots, head into the bush at night with your guide to marvel the spectrum of colours and the loud calling of mating frogs.
In between game activities, a qualified masseuse offers aromatherapy treatments, including full body Swedish and stress relief back massages.
Nights under the starlit skies of Zululand, sat around the warming fire with fellow guests and listening to the night sounds of the bush, are utterly unforgettable - the distant roar of a lion, the haunting call of a hyena, and the soothing sound of an owl.