Luxury Safari Lodges Offering Big 5 Game Viewing Opportunities
Kapama Private Game Reserve is a small yet superb slice of the African bush nestled within the Limpopo Province and overlooked by the mighty Drakensberg Mountains. Stretching across 15,000 hectares and criss-crossed by the Klaserie River, the reserve is rich with wildlife and a place of breathtaking natural beauty. The lush riverine bush, sprawling sweetveld and savanna woodland provide a stunning backdrop for a world-class safari experience.
The Klaserie River that meanders peacefully through Kapama provides an excellent ecosystem for all kinds of wildlife to thrive and perfect prowling grounds for Africa's most famous predators. As a result, Kapama is home not only to the Big 5, but to a further 40 species of mammal and over 350 kinds of bird. This means that every corner of the reserve is bursting with birdlife and blessed with a wealth of wildlife.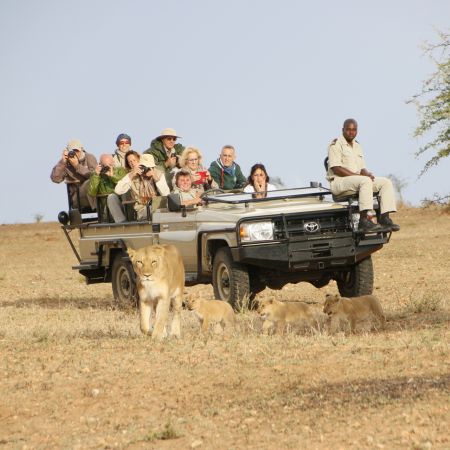 Kapama is one of the few remaining family-owned reserves in South Africa today and it takes great pride in providing truly interactive wildlife experiences. During a Kapama safari, you'll venture out at first light each morning to watch the bush wake up for the day, stopping for a steaming coffee on the way. As sunset approaches, you'll head out again across the savanna in search of close encounters with Africa's animals as twilight sets in.
If you're in the market for romance, nothing can compare to Kapama's 'million-star overnight experience'. For one night, you can sleep out in the open air on a 4-poster bed perched on a platform in the bush. Here, you can sip champagne by lantern-light and gaze up at a blanket of stars or lookout for signs of life in the bush around you. Have no fear though - the platform is fully animal-proof and comes complete with en-suite facilities! It's romance without compromise, and something that you'll remember forever.
Kapama's game lodges all share welcoming, warm atmospheres and top notch service levels, but each one has its own distinct character. From stilted safari tents perched on a riverbank to chalets draped in colonial charm and modern, elegant suites with clean neutral tones, Kapama really does have something for everyone. All of the lodges boast inviting swimming pools for relaxing dips between game drives, lovely lounges for reading and bush bars for a cocktail or two. There's even a wellness spa in the reserve to soothe the most stressed of safari-goers.