Greater Kruger Park Map
Map of the Private Reserves that form part of the Greater Kruger Park
The Greater Kruger Park is made up of the Kruger National Park and the private reserves that border it, and in total comprises of over 2 million hectares of protected land.
The private reserves are all privately-owned land which have been given over to wild-life over the recent decades, and they range in size from around 11,500 hectares to 65,000 hectares. The majority of these reserves have no-fences between themselves and Kruger meaning that the animals are able to live freely in this huge area.
The Sabi Sands is the oldest and most well-known of the Private Reserves, and is home to the famous lodges of Singita, MalaMala, Lion Sands, and Londolozi amongst others. Rates in the Sabi Sands tend to be a little higher than in the other reserves, however there are still bargins to be had at some lodges.
The other lodges all follow a very similar pattern to that established in the Sabi Sands, however rates are generally a little lower.
Reload Map
Greater Kruger.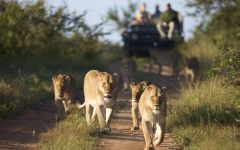 Getting There and Away
There are two major airports that serve the Greater Kruger Area with scheduled flights: Kruger Mpumalanga International Airport (MQP) at Nelspruit and Hoedspruit Airport (HDS) near Hoedspruit.
Generally speaking you should try and fly into MQP for access to Kruger throught the Paul Kruger Gate and lodges in the southern Sabi Sands.
For the other provate reserves (including northers Sabi Sands) and access to more northerly Kruger gates you should fly into HDS.
If you are staying at a lodge, you may also be able to take a shuttle flight directly from Johannesburg to an airstrip in the park. Please ask us for details if you are interested in doing this.
If you have a hire car you can drive to Kruger from Johannesburg - it is a strightforward drive, but you would need to allow up to 6 hours for the journey.
You can find out more about the travel options here.