Malaria-Free Wildlife Reserve in a stunning setting
Only a 3 hour drive from Cape Town, and situated at the foot of the Warmwaterberg between Montagu and Barrydale on the Route 62 lies the stunning Sanbona Wildlife Reserve - 58,000 hectares of undulating mountains and plains, indigenous fauna and flora, rock formations and rock art. The sheer expanse and stark beauty of the reserve gives one a sense of humbleness and a temporary release of the daily stresses of everyday living.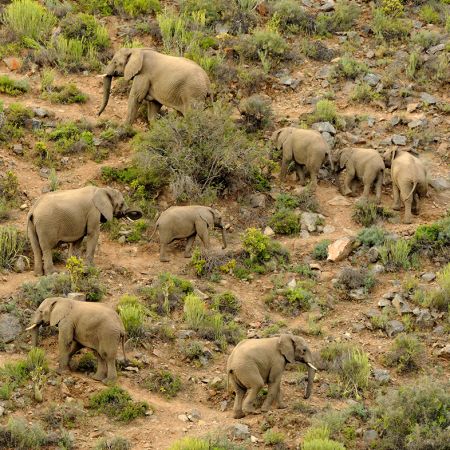 Overnight guests here can traverse the landscape of the reserve with a qualified ranger in comfortable open Land Rovers. During the drive, be it in the early morning or for sundowners, various species of plants, animals, big game and birds can be seen, including leopard, lion, white rhino, elephant, buffalo, cheetah, zebra, giraffe, and many species of antelope. Sundowner evening drives offer spectacular displays of light as the evening sun sets over the Little Karoo. The night skies here are completely free of light pollution, so the star gazing is some of the finest in Southern Africa.
Bush walks with the guidance of a ranger can be arranged to cater for individual needs.From gentle strolls, taking in the breathtaking beauty of the indigenous fauna and flora, to challenging trails discovering isolated vistas, a bush walk will truly reveal the beauty of Sanbona Wildlife Reserve. Guests can also enjoy a boat safari, in search of hippos and birds such as fish eagles, grey herons and Egyptian geese.
Sanbona has also initiated a unique conservation programme that aims to breed the rare white lion for release into the wild. Its whiteness is not due to albinism, but due to a recessive gene - similar to that found in the rare white tigers of Asia.
There are also 7 recorded rock art sites throughout Sanbona Wildlife Reserve, however many more can be found. The sites date back to more than 3,500 years and depict the spiritual beliefs and lives of the fascinating San people of Africa, the hunter/gathers tribespeople who roamed the area for thousands of years until only 100 years ago.