The epitome of luxury train travel
The Rovos Rail is the epitome of elegance. An international icon for luxury train travel, it is a moving work of art, offering total indulgence with no expense spared. Perfectly capturing a bygone era of railway refinement, a journey aboard the Rovos Rail is an atmospheric step back in time. It's an unbeatable way to experience the epic landscape of Africa, creating memories to carry with you forever.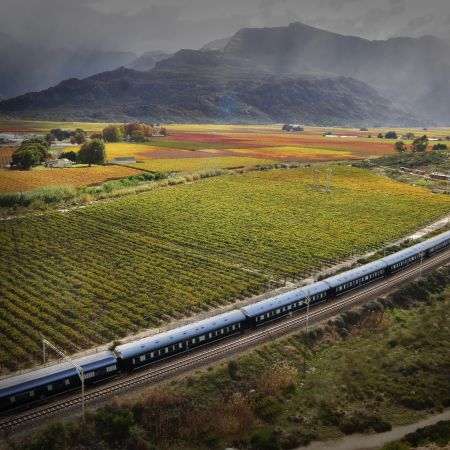 Gliding graciously across the open plains of Africa is deeply nostalgic, richly atmospheric and unbelievably scenic. Whichever route you choose aboard the Rovos Rail, you'll be treated to medley of magnificent views that are bound to take your breath away. Journey from the bright lights of Cape Town through the stark, sweeping beauty of the Karoo Desert to Pretoria or race through the rich cane fields of KwaZulu-Natal, where the towering peaks of the Drakensberg Mountains dominate the horizon.
The Rovos Rail network even reaches beyond South Africa, so it's perfect if you're looking for a true African adventure in uncompromising comfort and unsurpassed style. Experience an authentic Big Five safari en-route to the thundering majesty of Victoria Falls or be dazzled by the endless Namibian desert landscapes, where vivid blue skies meet giant orange sand dunes.
The central hub of Rovos Rail is the private grand colonial-style railway station, Capital Park, just north of Pretoria, South Africa's most stately city. This evocative station serves as an elegant departure and arrival stage for all Rovos Rail journeys. The station alone is a highlight - the small railway museum, the semaphore signals and the footbridge all combining to create an atmosphere fitting for the start or end of your unforgettable rail journey.
From the moment that you board the Rovos Rail, you can be assured of first-class service, luxurious accommodation and exquisite dining. Fitted with vintage finery down to the finest detail, the coaches of the Rovos Rail are marvellous trips down memory lane. Stepping into the traditional wood-panelled coaches, you'll be whisked back in time to an era of privileged, decadent rail travel. While Africa rolls past your window, you'll feel like an aristocrat at the turn of the century - and you'll certainly be treated like one.
Each and every coach has been lovingly restored and carries its own personal history, lending even more magic to the experience. Some date back as far as 1911, others have carried royalty and most of them have been a temporary home to a generous helping of celebrities. It's incredible to think of the conversations that these carriages have witnessed and the eminent figures that have slept soundly in these coaches. The whole train simply breathes history.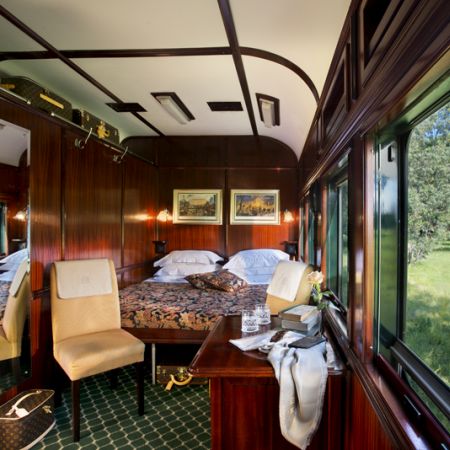 The sleeping coaches are spacious pockets of vintage luxury, featuring every create comfort you could possibly imagine. There's a tempting choice of air-conditioned twin or double-bedded Royal Suites, Deluxe Suites or Pullman Suites, all draped in period Edwardian finery and rich in atmosphere.Modern conveniences sit effortlessly alongside these Edwardian features, providing a perfect balance between comfort and class. Each suite includes an en-suite bathroom with either a Victorian bath and shower, or simply a shower. The elegant Royal Suites really are lessons in true luxury, occupying half a carriage each with their own private lounge areas.
While the dress code is casual during the day, the Rovos Rail is exclusively elegant in the evenings. This is the time to show off your most glamorous evening gowns and take your tuxedo out. The exquisite pillared dining cars are visions of vintage perfection, with crisp white linen, fine china and glistening silver. The impeccable service matches the superbly crafted scenery, while the incredible cuisine takes the entire dining experience to a whole new level.
A dedicated team of acclaimed and highly-trained chefs oversee the important task of ensuring that every guest dines excellently during their journey, and they'll eagerly cater for your every need. Careful thought and meticulous planning goes into the menu for every meal as guests stay aboard for several days at a time and require the perfect balance and range of dishes.
The emphasis lies on fresh local ingredients, adding another layer of authentic charm to your journey. Many of the menus feature traditional South African dishes and game is offered regularly. The three course lunches and evening meals are accompanied by a choice of excellent South African wines designed to enhance the flavours of the dishes. Not only this, but every morning, you can indulge in a cold buffet, with hot dishes made to order. All meals are served in one sitting, creating a lively yet sophisticated ambience in the dining cars.
Each train features a non-smoking Observation Car at the rear, while the coach next to it contains a small smoking lounge. The Observation Cars include enlarged windows and open-air balconies, making them a brilliant spot to stand with the wind in your hair as you watch Africa pass you by. In spirit of bygone days, there is no internet nor television aboard the train, giving you a technology-free taste of the past.