Surfing and sandboarding or relaxation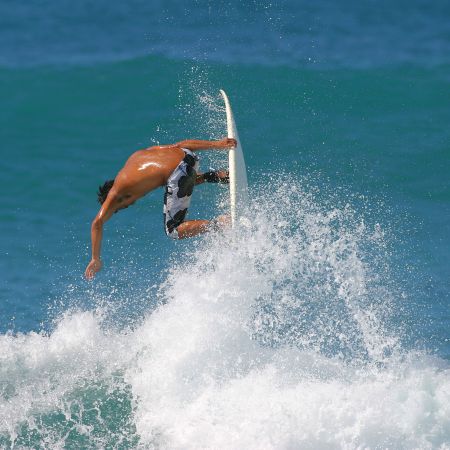 Just 15 minutes off the N2 between Tsitsikamma and Port Elizabeth lies St Francis Bay. Less well known than its popular neighbours, St Francis Bay is built around an extensive 7 km marina and canal system. Combined with the attractive whitewashed and thatched homes, this small village has an exclusive, upmarket feel to it, and it is easy to spend 2 or 3 days relaxing here.
With its surrounding coastline, there is a wealth of activities to offer those looking to spend some time near the sea and away from the crowds, including an 18 hole golf course. Or if you don't fancy being active, simply just relax with a good book around the pool at your guest house.
The area is most famous amongst surfers for its spectacular waves - 'Bruce's Beauties' (after the photographer who featured them in the 1960's cult film 'Endless Summer') and Seal Point, which when at its best can give surfers a ride of up to 150m.
Nearby Jeffrey's Bay is home to South Africa's longest and most consistent wave, and is the 'icing on the cake' for surf fanatics. Supertubes, Magnatubes, Boneyards, and Point...if this means something to you, then you will be in 7th heaven here. You can also shop till you drop in the many Surf industry factory shops including Quiksilver and Billabong. If you have never tried surfing, but don't want to miss out on the fun, several operators offer lessons to get you started. The prime wave season in Jeffrey's Bay is June to August, but the swell has been known to reach the coast as early as April, and last until the end of September.
If you want to surf without getting wet, however, the nearby sand dunes at Jeffrey's Bay are the highest and most spectacular in South Africa, and a perfect playground for sandboarding.
No results found matching your search for ''