South Africa's very own Blue Jewel
A journey aboard the Blue Train is an opulent, eye-opening experience that will stay with you forever. It's the last word in luxury, offering true refinement on the rails. If you're eager to see South Africa in style, look no further. The Blue Train is cross-country travel with champagne buckets of class. Simply sit back, sip on a fine South African wine and soak up your indulgent surroundings as the magnificent, ever-changing scenery of South Africa unfolds before you.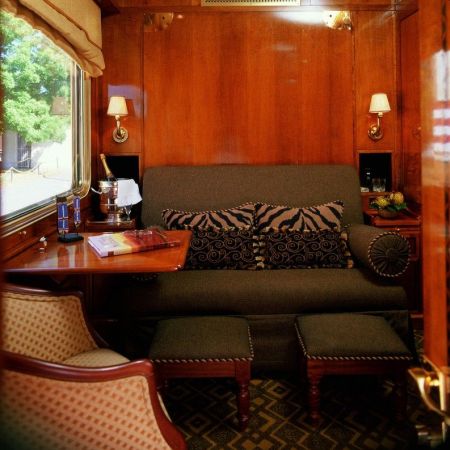 The beautiful Blue Train is a source of fervent South African pride, fondly referred to as the 'The Blue Jewel' amongst locals. From the moment that you step aboard, you'll see that this accolade is more than deserved. Every cabin is steeped in splendour and effortless elegance, whilst the impeccable, understated service will leave you feeling like a star.
All of the suites aboard the Blue Train are sumptuous private sanctuaries where you can relax as the South African countryside rolls past your window. There is combination of Luxury and Deluxe suites available, all featuring individual air-conditioning controls and offering the choice of twin or double sleeping arrangements with fine linens and perfectly plumped pillows.
Each suite comes complete with a stylish en-suite bathroom decked out with cool marble tiles and offers showers or deep bathtubs for truly luxurious soaks in transit. The Luxury suites also include a private digital entertainment centre with an excellent selection of big-screen movies and music CDs. Best of all, each suite is attended by its own butler, who will cater for your every need and ensure that you have the trip of a lifetime.
During the day, settle into a window seat and unwind with a sneaky cocktail while you gaze out over the hills, valleys, deserts and bushveld of South Africa. Racing across the country on the rails, you'll soon understand the vast breadth of the beauty offered by the Rainbow Nation. It's a wonderful way to get a glimpse of the staggering variety of South Africa's stunning scenery.
Step into the spirit of vintage train travel by playing a spot of backgammon or chess at the bar, or leaf quietly through the large selection of books in the hushed, stately library. Alternatively, stick resolutely to the 21st century with a recent big-screen movie release. It's completely up to you. The Blue Train is designed to cater for all kinds of passengers, allowing you to travel in you own personal style.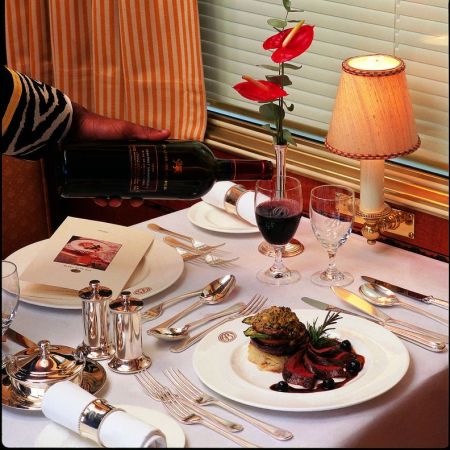 The lavish lounge carriages provide a simply wonderful setting for a romantic pre-dinner aperitif or a relaxing liqueur and coffee after a meal. Equally, the Club Car, with its mellow lamplights is the perfect spot for an atmospheric after-dinner smoke. These communal carriages are draped in decadence and authentic charm, offering indulgence with more than a splash of South African style.
The daily dress is smart-casual, meaning that you can travel in true comfort. However, as the sun begins to set over South Africa, the Blue Train takes on a strictly sophisticated edge. Guests change into traditional evening attire, lights are lowered and fine wines flow. Evenings aboard the Blue Train are elegant affairs, offering sumptuous meals and service that is second to none. This is the chance to abandon yourself to the romance of the rails.
Your silver service dining experience will begin from the moment that you set foot in the stylish dining room. You'll be met with bright smiles from smart serving staff, crisp white linen, twinkling crystal glassware and impeccably polished Sheffield cutlery. The atmosphere is completed by the tasteful background music, ranging from smooth jazz to light classical and the melodic, soulful tones of the Soweto String Quartet.
The menu matches the setting in terms of finery, with an array of culinary delights that will dazzle your tastebuds. The emphasis lies on locally sourced, regional cuisine, from tender Karoo lamb to lean ostrich fillet and world-class Knysna oysters. Each dish is thoughtfully accompanied by award-winning wine from the beautiful Cape Winelands. It's a true taste of South Africa in a totally unsurpassed setting.
All dietary requirements are happily catered for and, if you prefer to dine in the privacy of your own suite, room service can be easily arranged. In the morning, you'll be treated to a Continental or Full English breakfast at your own leisure. As you'll soon learn, nothing is too much trouble for the wonderful staff of the Blue Train.