Wildlife and Wild Flowers
Home to the ancient San People, the Northern Cape is all about wide open spaces, a magnificent coastline and a number of unequalled National Parks offering the tourist a very different experience of the South African experience. The region's sheer size, clear skies, elaborate sunsets, dazzling starry nights and incredible silence is mesmerising.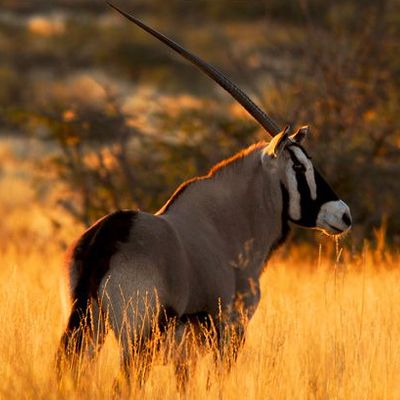 The Northern Cape is a large, dry region of fluctuating temperatures and varying topographies. As the most arid part of South Africa it offers the visitor an experience that is not elsewhere available. It is also noted for its San rock art and diamond diggings.
Attractions include Namaqualand, one of the 6 floral kingdoms of the world, which comes to life in spring, when the plains burst into flower creating a breathtaking carpet of brilliant colour.
The Kgalagadi Transfrontier Park comprises of two million hectares of sparsely vegetated, red sand dunes and dry riverbeds, and borders Botswana and Namibia. Wildlife includes huge herds of wildebeest and springbok, the striking oryx with their incredible long horns, as well as black-maned Kalahari lions.
The Augrabies Falls National Park is where the Orange River thunders its way through a ravine and into a pool walled by sheer granite.