The Big 5
Introduction
The Big 5
Lion
The Lion is the largest African carnivore.The lion will spend most of the day sleeping or resting and become active at night, and the pride will tend to start moving in the very late afternoon or early evening in search of prey. Lions are expert stalkers, They are capable of covering 100m in 6 seconds. The lionesses tend to do most of the killing unless the animal is significantly large The larger males will feed first, then they will be joined by the females and younger pride members.Unless food is particularly scarce, feeding is a relatively peaceful event, with only the occasional argument taking place. Both male and female lions tend to roar immediately after a successful kill, and the sound is one of the most magnificent sounds of the African bush.
Leopard
The leopard occurs throughout Southern Africa, and has a much wider distribution than any of the other 'big cats' . The male is generally larger and heavier than the female, but both have relatively wide heads with short powerful jaws and long canines. A female will normally give birth to 2 - 3 cubs per litter. The maternal bond is strong, and cubs will often stay with their mother for over 2 years, even if they are by this stage able to fend for themselves in the wild. nocturnal hunter,the leopard is extremely stealthy, and will stalk its prey until within 5 to 20m,and then pounce before the quarry has had a chance to realise that the leopard is there. Once the prey has been killed, leopards will oftendrag the carcass up a tree to protect it fromother scavengers such as lions or hyenas.
Elephant
The elephant is the largest land mammal in the world, and adult male bulls can weigh up to a massive 6,000 kg. Both males and females have tusks, but the males tend to be larger. The gestation period for a female elephant is a staggering 22 months, and when born, the baby elephant has a matt of dark black hair on the top of his head. Female elephants live together in close family herds of anything up to 25 related females. When elephants are alarmed, they will try to make themselves look even more imposing by spreading their large ears out. The ears also act as a form of 'air-conditioning'. Elephants spend about 16 hours a day feeding, and will consume about 5% of its total body weight in food a day. Their primary diet is grass, shoots, and tree bark. Because of their need to eat such vast quantities, elephants are a natural destroyer of habitat, and in certain areas in Southern Africa the environmental damage to the bushveld has become a major problem. Very high elephant populations have become a real problem, especially around the Kruger area, as the land is unable to fully recover before the next onslaught by hungry elephant herds.
Rhino
The rhino - people often confuse the differences between the black and the white rhino to be their colour. However, when you see them, you soon realise that they are both a dark grey colour. Their main difference is their diet and habitat. White rhinos are named after the Afrikaans word 'weit', meaning 'wide'. White rhino are grazers, so their mouths are wide and square shaped to enable them to graze more efficiently. They are predominantly found on open savanna and grasslands. Black rhino are browsers, feeding off plants, leaves and shoots, so their top lip is triangular shaped to enable them to grasp the leaves more easier. They prefer denser, thicker bush. Females calf for the first time at around 7 years old, after a gestation period of 16 months. Calves can stand within one hour of being born, but remain wobbly for several days, so the mother and calf will remain in dense cover for added protection.
Buffalo
Buffalo live together in large mixed herds, and are mostly active during the day, spend most of their time grazing, resting, moving on to new grassland, or wallowing in waterholes. Older/Elder and the Younger male bulls form separate groups away from the main herds, but return to the main herd during the breeding season. Buffalo calves when born are extremely wobbly and vulnerable, but generally get up on their feet within 10 minutes. They remain relatively unstable for a few weeks, and are easy prey for many predators including lions, leopard, hyena and wild dog, unless protected by the herd.Both males and females have horns, but the male horns meet in the middle of the forehead forming a large 'boss' . Buffalo can be incredibly aggressive animals when provoked or threatened.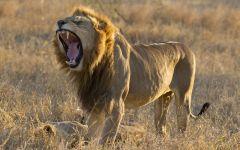 The Big '5'
Predators
Plains Game
Other Mammals
Birds & Reptiles