South African Safari Lodges Offering Tented Accommodation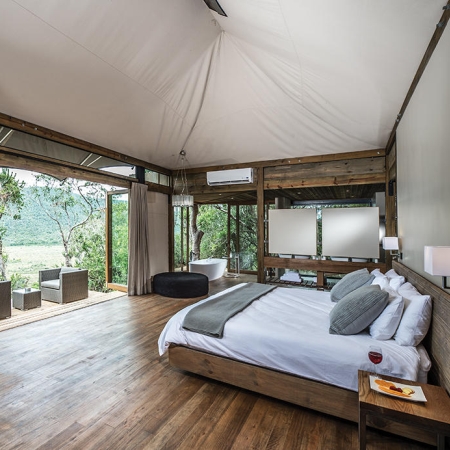 For most people the idea of spending the night under canvas surrounded by the sounds of the African bush brings to mind the romance of a bygone age of adventure.
Fortunately, there are many tented safari lodges in South Africa's private game reserves where it is possible to recapture this magic.
Many of these lodges offer a level of luxury that would normally only be found in the very best 5* hotels, with many 'tents' boasting air-conditioning, polished wooden flooring, luxury bathrooms with freestanding baths almost deep enough to swim in - and if that wasn't enough, many even boast private plunge pools - on your own private deck of course overlooking the bush.
For guests travelling on a more modest budget, there are other lodges which offer less extravagant tented accommodation, however the large tents all still have proper double or twin beds and en-suite bathrooms…it's still a long way from most people's idea of roughing it!