Rhino Plains Camp
Kruger National Park
Rhino Walking Safaris lets you discover nature's hidden wonders in specially tailored walking trails through a 12,000 hectare private wilderness concession in the Kruger National Park. The concession shares a 15 km unfenced boundary with the famous Mala Mala and Sabi Sand reserve with an abundance of wildlife moving freely between the two reserves. The concession is noted as an excellent game viewing area and good sightings can be expected.
Plains Camp is the ideal place for your Rhino Walking Safari. The camp is in the middle of the concession, where it seems the rest of the world no longer exists, and guests are ensured of superb game sightings.
A typical day at Plains Camp begins with a mug of steaming coffee and traditional homemade rusks, after which guests set out on their morning walk, following rhino tracks and elephant paths. The length of the walks is tailored to the interest and fitness of the guests.
Returning to camp, enjoy a leisurely brunch and relax by the plunge pool, keeping an eye on the waterhole for the breeding herd of elephant that frequently come to drink. Following high tea, set out again in the late afternoon for a walking safari or game drive and then indulge in a sunset cocktail.
Plains Camp has 4 luxury African explorer-style tents overlooking the spectacular Timbitene plain and waterhole.
The camp is built in authentic pioneer tradition and is raised on wooden decks. Stylishly decorated, the camp offers the tranquility of a 19th century naturalist's retreat.
An Africana book collection and antique treasures are reminiscent of a golden era.
Add To Wishlist
Enquire Now
All meals; cold drinks, house wine and beers; tea/coffee; and shared safari activities (primarily walking safaris) are included. PLEASE NOTE: The Kruger National Park Concession Fee is NOT included - this is currently R76 per person per stay - subject to change.
Children aged 12 years and older are welcome. Adult rates apply.
All of the holidays we prepare are tailor-made, but this might give you an idea of how Rhino Plains Camp can be included in you own dream holiday.
Suggested Itineraries
Walking In The African Bushveld
Discover nature's hidden wonders in a specially tailored 5 night walking safari starting from 'base camps' which are luxury tented accommodation. For a totally unique experience, one of the nights you will walk to a Sleep Out - an elevated wooden platform 4 metres high in the middle of the bush, where the night will be spent sleeping with the noises of the bush surrounding you.
5 day itinerary including Kruger National Park.
Prices from pp*
Add To Wishlist
Enquire Now
*Prices are per person and are based on today's exchange rates. Exchange rates are subject to change and are updated daily.
Prices exclude international flights - ask us if you would like to include these.
Guest Rating: 4.5 / 5.0 based on 2 ratings
Rhino Post and Plains Camp were super. They do the little things that make it special. We'd go back again. At Rhino there was a bottle of sparkling in our room on arrival, hot water bottles in the beds, quiet game drives and just the two of us on the first one, great wine cellar and the walks and guides were fantastic. Travel Butlers itself was superb! We learned that you requested certain rooms for us and everything was arranged flawlessly and at a great price. We would certainly call on Natasha again and recommend the company to friends and family.
J LEPOIDEVIN
General Information For Guests
Sleep outs are an extra activity and are at no extra cost - prior arrangement required.
Popular Alternatives to Rhino Plains Camp
These are the top properties booked by people who considered staying at Rhino Plains Camp, but for one reason or another booked a different property. It may have been that Rhino Plains Camp was not available on the nights they wanted to stay, or they decided that somewhere else was better suited to their budget or itinerary.
If you're not sure which place might be best for your own trip then either give us a call or get in touch via the website, and we'd be delighted to run through the options with you.
Add To Wishlist
Enquire Now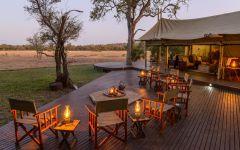 Location