Lodges who offer a special programme for children
A number of safari lodges in South Africa now offer childrens programmes for their younger guests.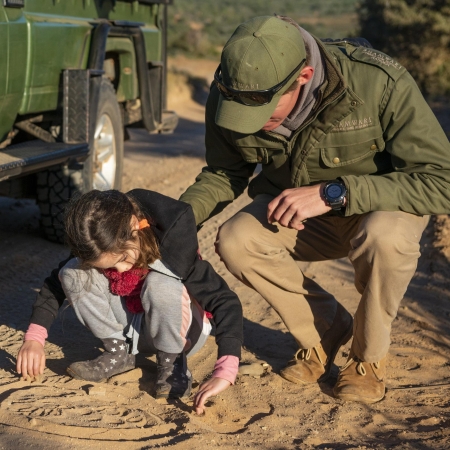 These obviously vary from lodge to lodge, but in general the majority of the programmes will include 'bush bumbles' - a shortened version of the adults game drive, plus the vehicle will not get as close to the larger animals of the African bush (such as elephants, lions, buffalo and rhino) as well as short bush walks in search of insects and animal spoor (what child wouldn't just LOVE the opportunity to be able to pick up some zebra dung !!) and after dinner story-telling about 'Why the Elephant has a Trunk' and 'Why the Warthog is so Ugly'.
Some may include kiddies bush picnics or special 'themed' meal times or the children may even be invited into the kitchen where the chef will help them bake cookies.
And all this goes on while the parents either enjoy their own game drives or just relax around the pool!
The safari drives enjoyed by adults are often not suitable for younger children as they may get close to potentially danergous animals such as lions and elephants or be rather longer than the average 6 year old's attention span, so these programmes are the perfect way to ensure the entire family get the most enjoyment out of their time on safari.