Facts for Self-Drive Visitors and Day Visitors
For self-drive visitors to the Kruger Park, there are 8 main entrance gates into the Park which are open from sunrise to sunset throughout the year.
| | | |
| --- | --- | --- |
| | OPEN | CLOSE |
| January/February | 05:30 | 18:30 |
| March | 05:30 | 18:00 |
| April | 06:00 | 18.00 |
| May/June/July | 06:00 | 17:30 |
| August/September | 06:00 | 18:00 |
| October | 05:30 | 18:00 |
| November/December | 05:30 | 18:30 |
| | | |
The busiest gate is the Paul Kruger Gate, about 40 km from Hazyview, and this road leads straight the Park headquarters at Skukuza (about 12 km from the gate) from where there are roads leading to all parts of the Park.
If you are staying in Hazyview, rather than at one of the rest camps in the Park, the Phabeni Gate is less than 15 km from the centre of town, and this allows visitors based here to spend longer in the Park without having to drive all the way to the Paul Kruger Gate. It is not advisable to use the Numbi Gate to enter the Park.
Entering The Park
All visitors who are 18 years old and above must produce a positive identity document for scanning in order to enter the Park. For non-South African visitors, this must be your passport. For South Africans, a valid drivers licence is acceptable. This is required for day visitors as well as those staying in the Park overnight.
In addition to providing an identity document, all self-drive visitors to Kruger have to pay an entrance or conservation fee per person per day at the main entrance gate.
There are different rates for international visitors, SADC returning nationals (upon presentation of a valid SA passport), and SA citizens and residents (upon presentation of a valid ID).
Adult rates apply to anyone aged 12 years and older. Children under 2 years old are free of charge; children aged 2 to 11 years are charged at 50% of the adult rate.
Visitors staying at South African National Parks rest camps are also required to produce a service voucher with a SanParks Reference number to confirm their stay.
Once you have paid your fees, you will be issued with an entry permit. Keep this with you at all times, as it will be required to exit the Park and you will also need to produce it if you are staying overnight in the Park at one of the many camps.
Don't be alarmed if the guard on the gate asks to also look in the boot of your car - it is just to ensure that you are not 'smuggling' anyone or anything into or out of the Park!
Driving In The Park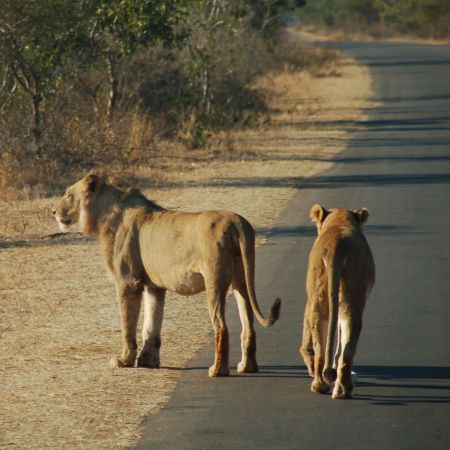 At every entrance gate, you can purchase a detailed map book, which is highly advised. Once inside the Park, there is an excellent infrastructure of roads, some of which are tarred, others gravel. Good, clear signposts and the detailed maps help to make the driving experience easy and enjoyable.
The speed limit is 50 km/h (30 mph) on the tarred roads, and 40 km/h (25 mph) on the gravel roads - and there are speed traps in operation!
Drivers MUST remain on the roads at all times, and are NOT allowed to drive off-road or get out of their vehicles, except at designated viewing points. There are also several excellent picnic sites, all with toilet and cafeteria facilities, where you can also sit outside at tables and enjoy the sun for a while.
As a general guide, don't expect to travel more than 25 km in an hour, which allows you to stop and enjoy the wildlife on the way. Always make sure you have plenty of water and refreshments in the car with you.
It is an offence to drive in the Park at night, and the gates of all the camps close when it gets dark. It is important that you therefore ensure that you arrive at your destination before the gates shut (same times as listed above), as arriving late can result in a heavy fine being imposed.
The game is most active in the early mornings and late afternoons, so plan your game drives accordingly. During the heat of the day, many animals rest in the shade under trees and bushes, making it harder to spot them. If you see any wildlife close to the road, you are advised to slow down and maintain a good distance so as not to scare them. Do not drive off-road in any circumstances, nor get out of your vehicle.
If you are unlucky enough to break down or puncture a tyre, stay inside your car until help arrives. Do not get out of the vehicle at all. This kind of incident is highly unlikely, but make sure you have a mobile phone handy - just in case!