Namibia is a country like no other place on earth. It has vast open spaces, dramatic landscapes and some of the most beautiful night skies you're ever like to encounter. There are many reasons why a trip to Namibia should be on everybody's list of things to do at least once in a lifetime, here are ten of them: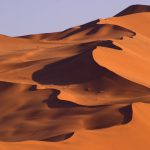 1.      Magical desert dunes
The magical dunes of Sossusvlei glow a rich red in the early morning light.
If you're feeling adventurous get up early, take lots of water and climb 170-metres to the top of the immense Dune 45. It's a tough climb but immensely rewarding; watching a sunrise over the desert dunes is a moment that will stay with you forever.
Close to the affectionately named "Big Daddy" dune (at 325-metres, the tallest in the Sossusvlei area) is a surreal, part post-apocalyptic, part Daliesque scene.  The bright white clay pan, dotted with tree skeletons scorched black by the sun sit in stark contrast to the rich azure skies.  Dead Vlei is a photographer's paradise.  The dried acacia trees, estimated to be 600 years old, are perfectly preserved thanks to the persistent dry heat of the desert.
Namibia provides plenty of opportunities to meet locals who still live a traditional lifestyle.
In northern Namibia a visit to a Himba settlement is a must, while the Living Museum of the Damara, situated close to the famous Twyfelfontein rock engravings site, provides an opportunity to experience traditional culture in a way that exists nowhere else in the world.
Situated between the Namib and Kalahari deserts, Fish River Canyon might not be the easiest place to get to, but those who make the trip will be well rewarded.  As a result of its physical isolation the place feels magical and quiet – its likely you'll have the place almost entirely to yourself as there are rarely more than two or three cars at any viewing point at any one time.
If you're looking to get away from it all and reconnect Namibia is the place of romance and once-in-a-lifetime adventures.
Getting behind the wheel and setting out on the open roads of Africa on a self-drive safari is an incredibly romantic notion for many people, and there is no better place to experience this than in Namibia.
Namibia is one of the least densely populated countries in the world, with only two people to every kilometre.
Lodges look out across vast plains and have wooden decks where you can sit in silence with no modern-day distractions, just uninterrupted views.
Home to some excellent private reserves, the vast arid space of Etosha National Park serves as a backdrop for the plentiful wildlife that call it home.
Namibia also contains some of Africa's largest private reserves and top conservation experiences.
8.      Desert-dwelling elephants
Namibia's starkly beautiful Damaraland is home to one of the world's few populations of desert-adapted elephants.
Smaller than regular elephant, these herds are constantly on the move and during the dry season they can be seen digging for water with their trunks.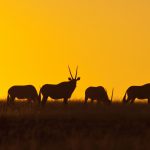 9. Breath-taking sunsets
Seeing an African sunset should be on everyone's list of things to experience at least once in a lifetime and Namibian sunsets will literally take your breath away.
Watching the Namib Desert at dusk is like stepping into a picture; the technicolour skies glowing a variety pinks, reds, oranges and yellows in stark contrast to the orange and purple mountains.
The Namib Desert is free from light pollution making it ideal for stargazing.  Wrap up warm under the bright blaze of the Milky Way and count shooting stars.  Many of the lodges have telescopes and offer astronomy talks, pointing out the various constellations.  One even offers 'sky beds' for anyone wishing to sleep under the stars!
Where to stay:
Sand Dunes, Stargazing & Romance – Little Kulala, an oasis in the middle of the Namib Desert is the perfect base for stargazing and quite possibly the most romantic place on earth.
Escape from Reality – taking the term 'getting away from it all' to a whole new level, Wolwedens Dune Camp offers visitors the opportunity to forget life's stresses, kick-back, relax and explore vast stretches of awe-inspiring and undisturbed nature.
Fish River Canyon – a short drive from the main viewing point, Canyon Lodge is an oasis seemingly in the middle of nowhere.
Etosha National Park – enjoy views of the bush and waterhole from the comfort of your own veranda at Ongava Tented Camp.
Himba Settlement – located in the extreme north-west of Namibia, Serra Cafema Camp  is probably the most remote camp in Southern Africa and one of the best locations from which to interact with Himba people.
Damaraland & Desert-dwelling Elephants – Mowani Mountain Camp is a firm favourite for exploring Damaraland and spotting the rare black rhino and desert-dwelling elephant.
Conservation Experience –  situated halfway between Windhoek and Ethosha National Park, Okonjima is home of the AfriCat Foundation, a non-profit organisation dedicated to the conservation and welfare of Namibia's wild predators, especially cheetahs and leopards.  Stay at Okonjima Plains Camp.
Does Namibia sound like your kind of place?  If so, why not chat to our friendly and knowledgeable team about planning your ultimate Namibian adventure?
Comments Off

on Ten reasons to start planning a trip to Namibia