Introduction
The Wellington Wine Route is only a short 70km drive from Cape Town, and the excellent soils and climate produce some extremely fine wine. The route is small and compact, and the cellars are within easy driving distance from one another.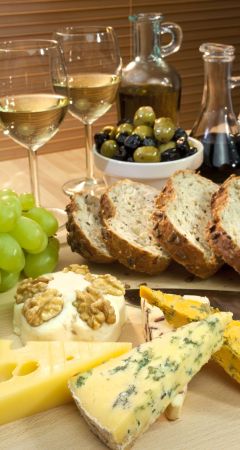 The wineries are all open to the public, and visitors are welcome to come and sample their products, and enjoy the friendly and informal atmosphere. Several of the estates also have restaurants which are open for lunch.
Bovlei
Established in 1907, Bovlei is the second oldest co-operative winery in South Africa, and over the years has produced some award-winning wines. Enjoy the superb view over the Hawequa mountains whilst tasting some of the fine wines in the tasting centre.
Jacaranda
The smallest estate in the Cape, Jacaranda produces a range of natural wines, olives and cheese. Cellar tours can be arranged.
Welvanpas Wine Cellar
Dating back to 1705, Welvanpas has been the home of the Retief family for 7 generations - amongst them the famous Voortrekker leader Piet Retief.
The estate offers wine tasting's at R20 (as at December 2003) for 5 glasses, including keeping the glass as a souvenir. Daily guided cellar tours, including a wine tasting, are also available, but these should be booked in advance.