Introduction
The Franschhoek Wine Route lies deep in the Cape Winelands, amidst gracious Cape Dutch farmsteads and majestic mountains. When the first Huguenots settled in the area, in the late 17th century, the Franschhoek Valley was then filled with elephants, hence the original name of 'Oliphantshoek', literally meaning 'elephant's corner'.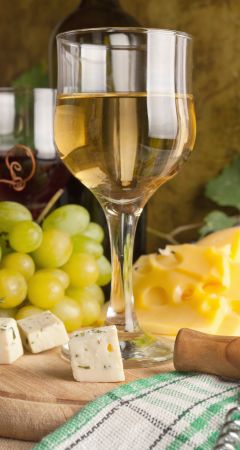 The vineyards here produce some of South Africa's finest wines, and can be explored on foot, by bicycle, on horseback, or by car if you want to take in a number of the 30 wine farms. The charm and beauty of the age-old wine farms will intrigue and delight any visitor.
Boschendal
One of the oldest wine estates in the region, Boschendal has a history of winemaking dating back as early as 1685. Visitors can do a wine tasting, or walk round the beautifully restored and furnished Cape Dutch Manor House.
The elegant restaurant in the old wine cellars is renowned for its excellent cuisine, or the cafe serves superb lunches under an avenue of mature oak trees. The picnic area is extremely popular and hampers are provided if booked in advance.
Agusta Wines
Enjoy the premium Agusta wines at the tasting room, and then dine out under the oak trees in their restaurant.
La Motte
La Motte's approach to quality reaches beyond the production of world-class wines. The unique charm of the wines comes from the soil types, a moderate climate as well as a team of dedicated experts who keep ahead of international viticultural and vinicultural practices.
La Mottes oldest building, a T-shaped farmhouse, was erected in 1751. The elegant tasting room is a place of relaxed hospitality adorned with exquisite tapestries and a homely fireplace. In summer, delightful cheese platters, with tempting delicacies such as preserved green figs and home-baked bread, are served with La Motte wines in the garden outside the tasting venue.
Cabrière Estate
Cabrière is famous for its wine tasting and tours. Relax afterwards in the restaurant and enjoy a glass of your new found favourite with lunch.
Chamonix
Chamonix has produced award-winning wines, which can be tasted daily at the Blacksmith's Cottage.
Bellingham
Producing fine wines since 1693, the sensational reds and elegant whites have won loyal followers throughout the world.
Stony Brook
A small wine farm, which produces wines of the finest quality.
Rickety Bridge Vineyards
A rich tradition in winemaking, this boutique winery focuses on a small range of quality wines.