The Food and Wine Capital of South Africa
Franschhoek is a small village nestled at the bottom of a fertile valley in the heart of the Cape Winelands, surrounded by rolling green hills, strawberry farms and endless rows of grapevines. It is a tiny but truly stunning pocket of South Africa and easily one of the most beautiful villages in the country. With an enchanting French history all of its own, Franschhoek is dotted with picturesque whitewashed churches, gorgeous wine estates and petite French bakeries. It's somewhere that will tug at your heart strings on first glance.
Although Franschhoek is small in size, it's huge on the culinary scene. The quaint main street is lined with boutique and artisan restaurants that have been richly decorated with all kinds of awards. As the village is rich in French history (Franschhoek actually means 'The French Corner' in Dutch), the emphasis lies in French cuisine, which is sure to provide an adventure for your tastebuds. This is amazing stuff for such a pocket-sized place.
Wine tasting is something unmissable in Franschhoek, as the village is surrounded by sloping vineyards and immaculately groomed wine estates on all sides. It's one of the premiere destinations in the World of Wine, with rich and fertile soil that is perfect for cultivating grapevines of all varieties. In fact, Franschhoek pioneered the wine industry in South Africa, as the first wines were made here over 300 years ago.
There are over 25 major wine estates in the area surrounding the village, including some of South Africa's most respected names in wine making. Most of these estates readily welcome visitors, offering both wine tasting and cellar tours. The beautiful valley is small and easy to explore, with tours available on foot, on horseback, by bicycle and by car. Suffice to say you won't be short of options! There are locally trained guides on hand to help you understand the history and the difference between the wines - and perhaps point you in the right direction home if you taste a little too much!
Franschhoek also represents a really fascinating slice of South African history. The French Protestant Huguenots fled to this idyllic valley in the 17th century from France when they were persecuted for their faith by the Catholic Church. The refugees, some of whom came from wine growing regions in France, were eager to create a new life for themselves. They found the perfect spot in Franschhoek with its fertile earth and temperate climate. Their combined knowledge of viniculture, wine and brandy making was the start of the flourishing wine industry we know in South Africa today.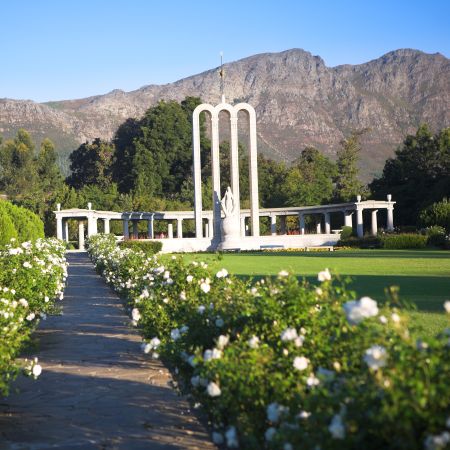 In the centre of the village, The Huguenot Memorial Museum and Monument pays respect to the bygone village elders and their unwavering faith. The central feature of the Huguenot Memorial is a female figure holding a Bible in her right hand and a broken chain in her left - symbolising the freedom of religion. Many of the residents of Franschhoek today are descendants of these elders, and the French influence in Franschhoek is still very prominent, with many restaurants specialising in French-style cuisine. These are decadent dining hotspots sure to provide a continental adventure for your tastebuds.
In addition to eating and drinking your way through Franschhoek, there are plenty of other activities available in and around the valley. There are lovely walking trails through the hills, which make for a glorious way to spend a sunny afternoon, as well as mountain-biking routes, horse-riding trails, fly-fishing and golf. Chocoholics will go nuts for the Huguenot Chocolate Factory, dripping with cocoa-flavoured indulgence. For adventurous spirits, paragliding offers a truly stunning bird's eye view of the area.Or take a hop-on/hop-off tour on the Franschhoek Wine Tram - a totally unique and leisurely way to see the Franschhoek Valley as you trundle in an open-side tram bus through vineyards and stunning scenery, stopping at wine estates along the way.
Alternatively, simple amble amongst the array of boutique art shops, galleries and specialist stores between one glass of delicious wine and the next. However you decide to spend your days, we're pretty sure that you'll fall for Franschhoek in no time. It's a beautiful place with a big heart and an even bigger appetite! We can't recommend it highly enough.
Franschhoek is very easy to reach from Cape Town and within only an hour's drive. Approximately 30 km south east of Stellenbosch, it can also be reached from the N2 via a scenic twisting road over the Franschhoek Pass (one of the oldest passes in South Africa), giving you breathtaking views over the valley en-route.