Dutch Architecture and Best-Known Wine Route
Stellenbosch is a picturesque and perfectly manicured town deep in the rolling hills of the Cape Winelands, just 40 minutes from Cape Town. It is at once a quaint vision of vineyards and a lively university town with plenty of youthful vigour. The shady oak-lined boulevards and Cape-Dutch style whitewashed townhouses lend Stellenbosch an atmosphere of stately country splendour. These green, charming avenues have earned the town its alternative title of 'Eikestad', meaning the Town of Oaks.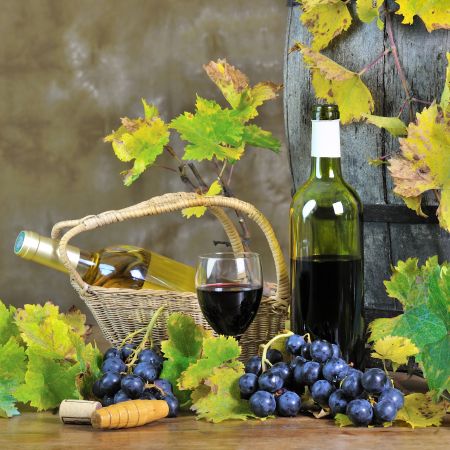 Stellenbosch boasts a brilliant combination of natural beauty and historical importance, making it a wonderful addition to any South Africa itinerary. The town was founded in 1679 by Simon van der Stel, who (not so modestly) named the town after himself. It's the second oldest town in South Africa, pre-dated only by Cape Town. Without doubt, Stellenbosch is most beautifully preserved historical town in South Africa. It really is something to behold.
Situated in the very heart of the Cape Winelands, Stellenbosch is a fertile Eden overflowing with idyllic vineyards, fruit trees, farmlands and green hills, all providing a stunning backdrop for the whitewashed, lovingly styled Cape-Dutch houses. It's the perfect starting point for exploring the surrounding area and the Stellenbosch Wine Route is arguably South Africa's best, with over 100 wine cellars scattered along its incredibly scenic route.
The town itself is a stunning spot for an afternoon stroll, with immaculately restored buildings and grand tree-lined avenues, all backed by the rich green mountains of the region. It's very easy to follow a do-it-yourself walking tour - both information and detailed maps are provided by the friendly local folk in the Tourist Information Office.Wandering past Georgian whitewashed farmhouses, 19th century university buildings and Victorian shopfronts, you'll step straight back into the colonial Dutch heritage of South Africa.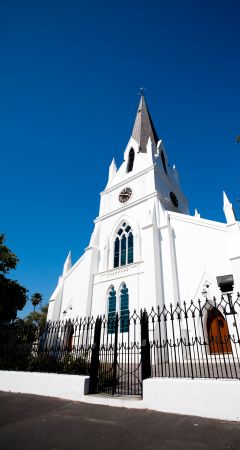 Dorp Street, just south of the village green, is well worth a leisurely saunter. It is the longest street of old houses in the whole country and features some splendid examples of original Cape-Dutch architecture. Another terrific and wonderfully twee tourist attraction is Victorian fronted Oom Samie se Winkel village shop, which still stocks vintage and old-fashioned items. This is prime souvenir-picking-up territory.
If you're wild about wine, try a visit to Bergkelder before setting off on a wine-tasting tour. This is an excellent viniculture visitor centre on the fringe of the town, offering a mixture of fascinating visual presentations about the origins of wine and the wine-making process. The centre also offers wine-tastings itself. In the museum at Bergkelder, you can set eyes on some ancient wine-producing artefacts and take tours of the antique cellars.
A short drive beyond the shady boulevards of Stellenbosch, you'll stumble across the Jonkershoek Nature Reserve. This is an idyllic escape into the countryside of the Cape Winelands, with gentle hiking trails to seasonal waterfalls and more challenging treks along the beautiful Panorama Trail, covering just over 17km. It's a rural retreat that is perfect for picnics and daydreamy days out. Jonkershoek is mostly composed of thick, enchanting forest and Cape fynbos, as well as a further 1,100 plant species. Many of these plants are rare and endemic to this specific area, so if you're a budding botanist you'll be in perfect company. The reserve is also brilliant for birding, so don't forget your binoculars! The exotic, towering trees constantly twitter with a vast array of birds, from the Cape Weaver to the flamboyantly named Forktailed Drongo. If you peek deep into the densely wooded vegetation, you might even spot Olive Woodpeckers and Black Sparrowhawks.
While Stellenbosch is a perfectly preserved example of Cape-Dutch lifestyle, it certainly isn't a relic living in its past. Famed for its highly esteemed university, Stellenbosch is somewhere bursting with life, youth and warmth. The locals are busy, friendly and hugely proud of their home. They maintain that 'Doll's House' tourism - where visitors peep into the town as if wandering around a museum - is never to be found in Stellenbosch. Instead, tourists are invited into the heart of the lifestyle, becoming a part of the welcoming and vibrant community of Stellenbosch for the duration of their stay.