Seeing the Falls from the Zambia Side
A trip to Victoria Falls is certainly memorable, and many people choose to combine a safari in Zambia with a 2 or 3 night stay at the Falls, to witness one of the 7 Wonders of the World. With a width of 1.7 km and a volume of 9 million litres per second pouring down a vertical drop of just over 100m they are certainly one of the largest waterfalls in the world.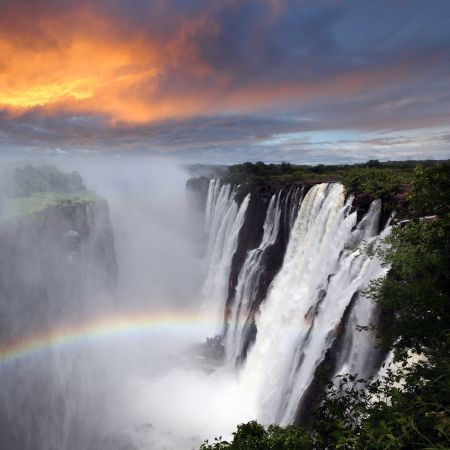 The small colonial town of Livingstone is situated about 10 km from the Falls themselves.
The majority of accommodation here is not in the town itself, rather it is spread along the Zambezi River, offering visitors not only a close base from which to visit the Falls from, but also the opportunity to enjoy magnificent sunsets over the river while relaxing with a sundowner after their day out.
Livingstone is named, unsurprisingly, after the great explorer David Livingstone, and an interesting way to spend a few hours if you have the time is to visit the Livingstone Museum, which is the oldest museum in Zambia, and has interesting displays of David Livingstone memorabilia.
Find out more about the Victoria Falls, their history, and the various activities that you can do there apart from marvel at the spectacular of the cascading water.