Tongabezi Lodge
Victoria Falls - Zambia
Tongabezi Lodge is a romantic hideaway on the banks of the Zambezi River just 20 km upstream of the magnificent Victoria Falls, and combines an exclusive ambience with the warmth and hospitality of the people of Zambia.
There is no set pattern to days at Tongabezi. Guests can do as much or as little as they wish, with game drives, bush walks and boating trips all included in the price. The majestic Victoria Falls can be viewed either by boat or private aircraft.
Lodge facilities include a dining, bar and lounge area under thatch, a swimming pool with waterfall, grass tennis courts, fishing and canoeing.
Instead of having lunch at Tongabezi Lodge you may opt for a picnic lunch on one of the nearby islands accompanied by a guide. Or, depending on the time of year, you may prefer lunch on Livingstone Island, right on the very edge of the Falls.
In the evenings, you can dine on one of the indoor or outdoor decks in the main lodge, or within the privacy of your own suite.
There is a variety of accommodation options to choose from, from River Cottages to the stunning Tongabezi Houses and the separate Tangala House.
The River Cottages have a private lounge, spacious bedrooms with mosquito net canopy. The Tongabezi Houses have unique architectural features, seating area and 4 poster double beds. Each accommodation option has its own valet who will look after you throughout your stay.
The Tangala House has 4 bedrooms and a 12m private swimming pool, and comes with a vehicle and boat, chef, waiters and private guide.
Show Rates in
Our standard rates for a River Cottage
Dates
Price
Basis
Type
Nights

1 October 2020

to

31 October 2020

GBP 606

USD 764

ZAR 12,430

EUR 667

per person sharing
Standard Rate (1-3)
1 to 3 nights

1 October 2020

to

31 October 2020

GBP 606

USD 764

ZAR 12,430

EUR 667

per person sharing
Stay Pay (4/3)
4+ nights

1 November 2020

to

31 December 2020

GBP 513

USD 646

ZAR 10,510

EUR 564

per person sharing
Standard Rate (1-3)
1 to 3 nights

1 November 2020

to

31 December 2020

GBP 513

USD 646

ZAR 10,510

EUR 564

per person sharing
Stay Pay (4/3)
4+ nights
Prices are on a per person sharing basis (pps).
Special offers for longer stays or when booked as part of a longer itinerary may apply - details on request.
---
Rates Include
All meals; sunrise and sunset boat trip on the Zambezi; guided canoeing excursion depending on water levels and hippo activity; lunch on local Island with guided walk; fishing (equipment provided); visit to the Victoria Falls on the Zambian Side (Falls entrance fees are extra); game drive in the Mosi-Oa-Tunya National Park (Park fees are extra); walk in the gorge below the Falls; cultural visit to the museum (museum entrance is extra); local village visit; mountain bike trail to local village; shopping trips on the Zambian side of the Falls; and a complimentary laundry service are included.


---
Children Policy
Children aged 7 years and older are welcome. Rates available on request.
---
Special Offers
Free Night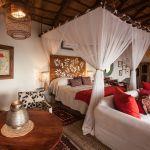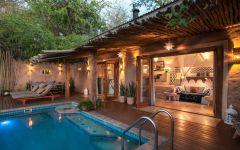 Code: Z-04834
---
Stay for 4 nights for the price of 3 plus free airport transfers at Tongabezi Lodge in Victoria Falls - Zambia.
Valid: 1 January 2020 - 31 December 2020.
Book Before: 27 December 2020.
Example price for 2 people staying 4 nights from:
Example price based on staying in a Tongabezi House between 1 November 2020 and 31 December 2020.
Reload Map
Tongabezi Lodge Location.
General Information For Guests
Please note that Victoria Falls is a malarial area, so please contact your doctor prior to travelling regarding taking the necessary precautions.
Please note as of the 1st of January 2008, all banks in Zambia will no longer accept travelers cheques. The only method of payment available in Zambia will now be credit cards or cash.
The whole visa waiver system has now been abolished for all visitors to Zambia. This change means that every visitor is obliged to pay for his or her visa either in advance or on arrival in Zambia. The current visa costs (as at 20 November 2008) are as follows :
All nationalities: $50 for single, $80 for double and $160 for multiple entry.
It is best to obtain visas prior to travel in order to avoid any potential problems with the airlines or with the Zambian Immigration Authorities. Visas can be obtained from your country's Zambian High Commission. Single entry visit visas are available at all ports of entry, but multi-entry visas are not so these must be applied for before travelling. The Zambian immigration website still has the old fees advertised but we are told it will be updated shortly. It is important to carry the exact amount with you, as change may not be available.
There is also a Departure Tax and Security Charge payable upon leaving the country at the airport - please ensure you have sufficient dollars in cash available for this - allow US$40 per person (to be on the safe side).
Popular Alternatives to Tongabezi Lodge
These are the top properties booked by people who considered staying at Tongabezi Lodge, but for one reason or another booked a different property. It may have been that Tongabezi Lodge was not available on the nights they wanted to stay, or they decided that somewhere else was better suited to their budget or itinerary.
If you're not sure which place might be best for your own trip then either give us a call or get in touch via the website, and we'd be delighted to run through the options with you.