The exotic Spice Island
The exotic island of Zanzibar is located about 25 miles from the Tanzanian coast, and 6° south of the equator. White sandy beaches line the shores, fringed by wispy palm trees that sway gently in the breeze that comes off the Indian Ocean. The crystal clear and warm turquoise waters entice snorkellers and divers to explore never-ending coral reefs and swim with dolphins, and romantic dhows cruise into the golden sunsets.
Zanzibar is a relatively small island, only 60 miles long and 20 miles wide, and is home to 800,000 inhabitants. The island (also known locally as Unguja Island) is actually part of a small archipelago, which is made up of Zanzibar and a number of other islands, which include Pemba and Mafia. The local people speak Swahili and they have a wonderful mix of ethnic backgrounds - which is encapsulated in the vibe that you feel from the moment you step onto the island.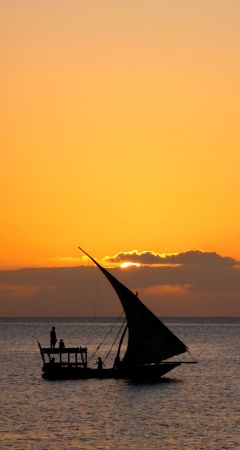 The capital of the island is the historic and ancient Stone Town, which has a maze of winding narrow alleys, mosques and grand Arab houses, and bustling bazaars selling everything from silk to spices. Step into Stone Town, and you may think you have stepped back 200 years. Nothing has changed in this ancient city since then.
Traders haggle noisily in the busy bazaars, spice smells linger in the air, and the winding streets and alleys weave their way past old stone buildings with elaborately carved, brass-studded wooden doors. It is a great place to just wander around and absorb the atmosphere of a town that time has almost bypassed - even if the tourists haven't.
At sunset, the mosques ring out with the sounds of prayer, and market food stalls set up around the harbour area. Rootop restaurant terraces open for delicious evening meals as the night draws in around you.
There are more than 25 tropical beaches on Zanzibar offering the perfect setting to relax for a few days and soak up the African sun, either at the beginning or end of your trip to Tanzania. Some beaches are busy and more touristy (such as Nungwi in the north), some are more windy (such as Paje in the south-east so this is a popular destination for kite surfers), and other beaches such as around Matemwe are so peaceful you may find that you have the white sands all to yourself.
The diving off the coast of Zanzibar is outstanding. Beginners and experienced scuba divers will delight in the colourful coral reefs that surround both Zanzibar and Pemba, and good visibility and year round warm water temperatures make the experience even more enjoyable! Barracuda, kingfish, tuna and wahoo swim alongside playful dolphins, graceful manta rays and sharks. Tropical fish favour the shallower waters, making this also ideal for snorkelling.
Getting to Zanzibar from mainland Tanzania could not be easier, as the island is serviced by daily flights from Arusha, Kilimanjaro and Dar es Salaam - making it very easy to go on safari first then end your trip with a beach stay. The island is also serviced by international carriers should you just want a 'beach and flop' holiday.
Below you will see the hotels and beach resorts in Zanzibar that we work with, to give you some idea of prices and some holiday inspiration.