Some of the Best Diving and Snorkelling In the Indian Ocean
Around 50 km north of Zanzibar is the lush, green and fertile island of Pemba. Meaning 'The Green Island' in Arabic, the island certainly lives up to its reputation. With its hilly terrain, small local farms, idyllic beaches and the spectacular biodiversity of its marine life, it is an undiscovered island paradise.
This is the perfect destination for those looking to get away from the large crowds and resorts found throughout the east coast of Africa, and who prefer instead to venture further afield to a location which is less developed and admittedly harder to get to, but nevertheless offers complete seclusion.
Access to the island is through daily scheduled flights from Stone Town or Dar es Salaam to Chake Chake, the islands capital. The climate here is slightly milder than that of Zanzibar and the Tanzania mainland, with the average temperature throughout the year varying between 24 - 27°C.
Forming part of the Zanzibar Archipelago (also known as the Spice Islands), Pemba's history is heavily linked to the spice trade, with the Arab and Swahili heritage reflected in the architecture and culture.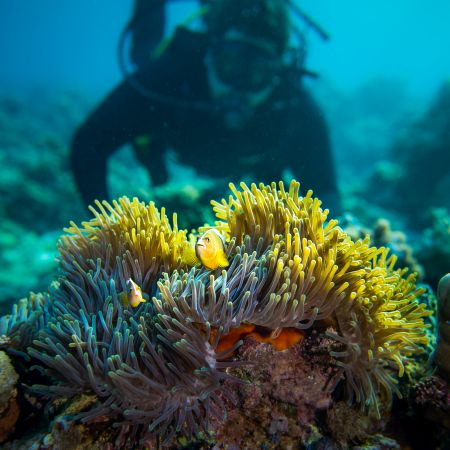 The highlight of any trip to Pemba, however, are the offshore coral reefs and the vast supply of deserted beaches that are just waiting to be explored. As such, the island is renowed as having some of the best diving spots in East Africa, suited to all levels of experience. First time divers may struggle with some of the strong drift currents while the more experience diver will find this exhilarating, but there are plenty of easier dive sites for inexperienced divers to learn in. The average temperature of the water is 26ºC, and visibility is excellent, with divers able to see 30 to 40 metres on most days.
Even though it has fewer accommodation options than its Spice Island counterpart, Pemba still has a good range of excellent resorts, hotels and beach lodges to suit all budgets and itineraries.
One of the most unique properties on the island would have to be The Manta Resort. It has a selection of rooms and villas, however it is the underwater room that is most sought after, and for good reason. Lying just off from the shoreline, the room floats above a colorful reef in crystal clear waters, and below the landing deck is a soft double bed, surrounded by panes of glass giving you an undisturbed view of this mystical blue world.
A classic safari in one of the incredible National Parks/Reserves that Tanzania is famous for, combined with a beach holiday to Zanzibar and then onto Pemba, showcases all that the country and the East African coast has to offer. Take a look at some of the stunning properties we work with here to give you some inspiration.