Jaci's Safari Lodge
Madikwe Game Reserve
Jaci's Safari Lodge is situated in the malaria-free Madikwe Game Reserve, which boasts 75,000 hectares of Big 5 game viewing territory. The reserve is also home to wild dog, cheetah, plains game including gemsbok, springbok, zebra and giraffe, and over 340 species of birds.
The stylish lodge is situated under shady trees on the edge of the Marico River and overlooks an established and well used water hole. The Jaci's team will ensure that you will enjoy superb personal service, a wonderful ambience, outstanding food and wine, and an exceptional game viewing experience.
The main lodge consists of a spacious lounge and open plan dining area with uninterrupted views of the bush.
Early morning and evening game drives and bush walks will be the highlight of your stay.
Between these times, you can lounge around the pool, lie in a hammock, or sip an ice cold drink while you watch the African bush unfold her secrets.
Children of all ages are welcome and specially catered for.
The 8 rooms are all built using a unique combination of thatched roofs, stone and canvas walls, which creates a 'tented' feel and captures all the elements of a truly luxurious African bush safari. Each room has an open plan bathroom with a hand-made rock bath with an outdoor shower, and fans to keep a gentle breeze flowing. The deck in front of the room allows you to sit and enjoy the surrounding sights and atmosphere of the bushveld.
For families that would like to spend time together, the exclusive Nare or Safari family suites are a great option. The suites come with their own guides and game drive vehicles, as well as a private plunge pool and at night you can choose to dine with other guests at the lodge or have your own private dinner.
Add To Wishlist
Enquire Now
Show Rates in
Our standard rates for a Safari Room King/Twin Room
Dates
Price
Basis
Rate Name
Nights
1 May 2017 to 30 June 2017
GBP £ 257 US$ 329 ZAR 4,235 EUR 300
pps
Standard Rate
1+ nights
1 July 2017 to 18 December 2017
GBP £ 399 US$ 511 ZAR 6,585 EUR 467
pps
Standard Rate
1+ nights
19 December 2017 to 5 January 2018
GBP £ 456 US$ 584 ZAR 7,525 EUR 534
pps
Standard Rate
1+ nights
Prices are on a per person sharing basis (pps).
Special offers for longer stays or when booked as part of a longer itinerary may apply - details on request.
---
All meals; teas; the Madikwe Guest Conservation Contribution; shared game drives/walks; "jungle drive" for kiddies; and child-minding are included. PLEASE NOTE: If you would like lunch on day of arrival this will be an additional cost. IN ADDITION: All other drinks are NOT included. For guests arriving by road, the cash entrance fee of R180 per adult and R80 per child younger than 12 years (subject to change) to enter the reserve is also not included. For guests arriving and/or departing via FedAir, the landing/departure fees are not included and are payable directly to the lodge (currently R240 per adult and R150 per child).
Children of any age are welcome. Rates available on request. Children aged 4 years and under are specially accommodated with their own game activities. Children under 12 are not allowed on bush walks. Early evening meals for all children under 12 years are provided. Babysitting services are available.
Children of all ages are welcome at Jaci's Safari Lodge and are especially catered for.
Children aged 8 years and older are allowed on the regular game drives with the adults, but children aged 7 years and younger do not go out on the regular game drives but instead are specially accommodated on their own 'jungle drive' during the day. This drive goes out once a day after the parent's morning drive and is included in the rate for children. The 'jungle drive' lasts between 30 minutes and 90 minutes, and the information on the drive is aimed at the ages of the children on the drive. Parents are of course welcome to join - but must behave like children!
In addition, the lodge also has a Children's Specialized Safari that goes out twice a day at the same time as the regular game drive. The children go out with specifically trained guides and are introduced to different aspects of the bush. These safaris are at an additional cost per drive (rates on request) and are for children 3 years and older. Please note these drives and subject to availability and are completely different from the 'jungle drives'!
All children 10 years and younger have dinner as soon as all the children on specialized safaris and / or children on the regular game drives are back at the lodge. This is because dinner is served late and children are tired and hungry before the main dinner is served. If this is a problem please advise and the lodge will set a table separately for the family. Parents eat later but are welcome to sit with their children whilst the children eat if the parents are back from game drive when the children's dinner is served. Please advise your consultant at Travel Butlers of children's preferred meals so that the chef can be prepared.
Childminders are provided as part of the lodge's service during game drive time and dinner time.
General Information For Guests
Your rate includes a mandatory Madikwe Guest Conservation Contribution of ZAR 150 per person per night (subject to change), which goes towards protecting the endangered wildlife.
Popular Alternatives to Jaci's Safari Lodge
These are the top properties booked by people who considered staying at Jaci's Safari Lodge, but for one reason or another booked a different property. It may have been that Jaci's Safari Lodge was not available on the nights they wanted to stay, or they decided that somewhere else was better suited to their budget or itinerary.
If you're not sure which place might be best for your own trip then either give us a call or get in touch via the website, and we'd be delighted to run through the options with you.
Add To Wishlist
Enquire Now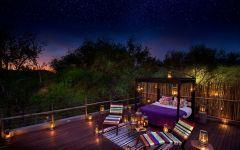 Location