Easter has hopped up on us once again, that time of year when the world hits a collective chocolate high and those same old egg puns become truly eggs-asperating. It's a season of indulgence, family fun, sugar spikes and expanding waistlines, so let your diet disappear out the window for the long weekend and embrace the annual magic of the Easter bunny.
If you'll be celebrating Easter in South Africa this year, you'll be in for an eggs-tra special treat, as there are some really cracking events happening all over the country (I warned you about the egg puns). South Africa doesn't do Easter by halves, so lick your lips, loosen your belt and prepare for some real Rainbow Nation eggs-travagance.
We've been on the hunt for some particularly eggs-cellent events over Easter in South Africa, from the stunning Cape Peninsula to the Little Karoo desert and to the very top of Table Mountain. After compiling our eggs-tensive research, we've whittled it down to our top six Easter picks across South Africa. It's a very mixed basket, so whatever your age and the severity of your chocolate-addiction, we hope you'll find something to make your Easter in South Africa really special.
1. Try The Epic Table Mountain Egg Hunt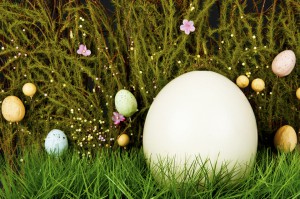 A trip to the top of Table Mountain is an incredible eggs-perience all on its own, but coupled with a huge Easter Egg Hunt at its summit it becomes something astronomical! Looking down over the curves and contours of the Cape, you can sit back and watch your kids frantically forage through the fynbos for Easter eggs. It's Easter family fun at its most mind-scrambling, complete with bunnies and clue cards leading the way to childhood chocolate heaven.
The search starts on Sunday 20th April from 10h00 to 13h00 at the Top Station. A return trip costs just R100 for children and R205 for adults when tickets are bought online at www.tablemountain.net. If the Cableway is closed due to dodgy weather, the Easter Egg hunt will take place on Monday 21st April from 10h00 – 13h00. They've thought of everything to bring your Easter alive!
2. Indulge in Ostrich Egg Antics in Oudtshoorn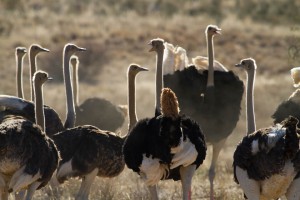 Oudtshoorn, tucked away in the Little Karoo Desert and separated from the Garden Route by a dramatic mountain range, is the ostrich capital of the world. If you're looking for something a little egg-centric, Oudtshoorn offers some quirky – if not hopping mad – egg-themed fun that is perfect for the Easter weekend.
Here, you can eggs-pect to feed ostriches, kiss ostriches, ride ostriches and even watch an ostrich derby with local ostrich jockeys! Not only this, but you can eggs-perience the odd sensation of standing on a real ostrich egg. These gawky, long-legged creatures lay the largest eggs of any bird, and they weigh up to a whopping 1.4 kilograms each. That's over 20 times the weight of a chicken egg and about the same weight as 41 Cadbury's Creme Eggs! Don't worry – their shells are as tough as old boots, so you won't break them – but we're sure you'll have a smashing time nonetheless!
3. Join Africa's Biggest Easter Hunt
You can take Easter to the eggs-treme this year at uShaka Marine World in Durban by taking part in Africa's biggest Easter hunt – a real claim to festive fame! There are over 100,000 eggs to be found on both 19th and 20th April, promising unlimited fun for big kids and little kids alike. Set in the stunning aquarium complex along the surf-speckled shoreline of the Indian Ocean in Kza-Zulu Natal, it's a surefire way to get an Easter to remember.
Tickets are R110.00 per person and the hunt starts at 07:00am on 19th and 20th April.
4. Enjoy The Perfect Middle Ground At Spier's Egg-streme Easter Egg Hunt
Chocolate, wine, and a whole load of entertainment guaranteed to leave little ones happily eggs-hausted – the Spier's Eggs-treme Easter Egg Hunt has been craftily devised to thrill the whole family. Set on the famous Spier Wine Estate in Stellenbosch, a picturesque and historical nook in the sweeping Cape Winelands, it's the biggest Easter egg hunt in the Western Province, so it's bound to eggs-ceed even the wildest Easter eggs-pectations.
At Spier, the Easter egg hunt follows a 3-km trail across the eggs-pansive grounds and beautiful vineyards of the estate, with elusive Easter treats hidden along the way. Afterwards, little ones can eggs-pend any leftover energy on a range of imaginative activities, including the eggs-traordinary chicken jumping castle and the cracking giant egg piñata. There are also plenty of opportunities for children to get their faces painted and eggs-plore their creative side with traditional egg-painting.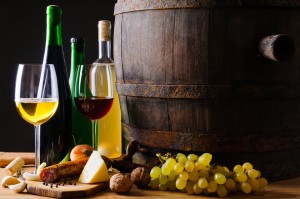 Parents – have no fear – you will not be eggs-cluded from the fun. While your children chase chocolate around the estate, you can try some wine and chocolate pairing (eggs-tra costs apply), and once the eggs-citement begins to die down, you can enjoy a delicious lunch on a sunny green against blue skies in a stunning South African setting.
Booking is essential and you can purchase tickets at Quicket.co.za. The tickets cost R100p/p for only the hunt, which starts at 10am. Tickets for the hunt and lunch (which starts at 1pm) cost R325p/p for adults and R162.50p/p for kids between the ages of 6 and 12 years.
5. Take Part In The Plett Easter Games
If you're after something active for Easter and you're within striking distance of the Garden Route, The Discovery Plett Easter Games is perfect for beach bunnies and adventure-loving athletes alike. There's an eggs-tensive array of events including trail running, surf-ski paddling, mountain-biking, an open-water surf-swim, a township run, a golf challenge, a sandcastle competition and a Kids King of the Beach competition over a period of four days.
While it's too late to register for an event, there are plenty of chances to relax on Central Beach with a picnic, lounge in the sunshine, soak up the lively atmosphere and watch the action unfold. It's a great way to spend a family weekend on the beach and support local sport at the same time.
6. Cheer On The Runners (And Feel The Chocolate Guilt)
The Old Mutual Two Oceans Marathon in Cape Town (18-19 April) is said to be the most beautiful marathon in the world, and this year it takes place over the Easter weekend – on Saturday 19 April. You'll be relieved to know that entries are closed, but the atmosphere is absolutely electric and spegg-tators are eagerly encouraged to support the runners. The good news is that you won't have to shell out a penny!
The marathon follows Cape Town's scenic routes and sees athletes from across the world pushing their bodies to the limit around the slopes of Table Mountain and the Cape Peninsula. Around 11,000 runners participate in the 56-km ultra marathon and 16,000 runners take part in the 21-km half marathon, so it's something really inspiring to behold. If you want to eggs-perience a slice of the action firsthand, there's a handful open fun runs and trail runs taking place the day prior (18 April) to the big events.
---
Well, by now I'm sure that you're eggs-hausted by the persistent punning and chomping at the chocolate-bit to hatch your Easter plans, so I'll head for the nearest eggs-it. Wherever you are in South Africa, and whatever Easter antics you get up to, we hope you have a simply wonderful time.
Comments Off

on Celebrating Easter in South Africa