If you are thinking of arranging a family holiday to South Africa, and including a couple of days at a safari lodge, you will be amazed at the number of lodges that do cater specifically for children – and by this, we mean not only just offering to put extra beds in the room for them to sleep on !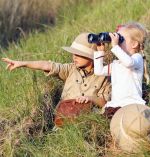 A growing number of safari lodges now offer children programmes for their younger guests. These obviously vary from lodge to lodge, but in general the majority of the programmes will include 'bush bumbles' – a shortened version of the adults game drive, plus the vehicle will not get as close to the larger animals of the African bush (such as elephants, lions, buffalo and rhino); short bush walks in search of insects and animal spoor (what child wouldn't just LOVE the opportunity to be able to pick up some zebra dung !!), and story-telling about 'Why the Elephant has a Trunk' , 'Why the Zebra has a Stripy Coat' and 'Why the Warthog is so Ugly'. Some lodges will offer kiddies bush picnics or special 'themed' meal times, some will even invite the children into the kitchen where the chef will help them bake cookies.
And all this goes on while the parents either enjoy their own game drives or just relax around the pool !
You can see a selection of lodges that Travel Butlers work with who offer such programmes by clicking HERE.
Even if you want to go to a lodge that doesn't offer a bespoke children's programme, there will always be babysitters on hand to look after the really young children during game drives. In general, all the lodges right across South Africa will not allow children younger than 5 to go on the long adult game drives (but the age restriction does vary from lodge to lodge so you do need to check with us before booking).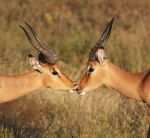 If you really do want to share the safari experience with your little ones, you can ask the lodge if you can hire a Land Rover for a day, and the ranger will only take you and your family out on your own game drives.
This will be an extra cost over and above the rate that you would normally pay, and whilst the lodge will do everything they can to accommodate this, they all do state that they cannot guarantee this service – purely for the reason that each lodge will normally have just one 'spare' Land Rover – and if one of the vehicles that is due to take out the other guests breaks down, then the spare vehicle has to be used !
Finally, for most families, the family-friendly lodges in the malaria-free regions, such as the Eastern Cape, the Waterberg and Madikwe, will offer the most appeal, as this will mean that the kiddies will not have to take malaria tablets before, during and after the safari part of the trip !
Comments Off

on Taking Young Children on Safari