Holidays Including Victoria Falls
Suggested Holidays Including a Few Days At Victoria Falls
A stay in Victoria Falls is easily combined with a safari in Zambia, Zimbabwe, Botswana or South Africa.
If you are intending on booking your own flights, please do make sure you fly into the correct airport, as otherwise you can arrive in one country and have to clear 2 sets of immigration before you even reach your hotel! If you are planning on staying on the Zambian side you should fly into Livingstone Airport (LVI), and the airport for the Zimbabwean side is Victoria Falls (VFA). Whichever side of the Falls you stay you can still visit the other side to make sure you get the full experience.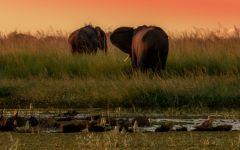 Code: ITINERARY-02677
---
Combine 2 nights at one of Southern Africa's most popular tourist attractions, the mighty Victoria Falls, with a 2 night safari in the Chobe National Park, home to one of the highest concentration of elephants to be found anywhere in the world.
---