Holidays Including Victoria Falls
Suggested Holidays Including a Few Days At Victoria Falls
A stay in Victoria Falls is easily combined with a safari in Zambia, Zimbabwe, Botswana or South Africa.
If you are intending on booking your own flights, please do make sure you fly into the correct airport, as otherwise you can arrive in one country and have to clear 2 sets of immigration before you even reach your hotel! If you are planning on staying on the Zambian side you should fly into Livingstone Airport (LVI), and the airport for the Zimbabwean side is Victoria Falls (VFA). Whichever side of the Falls you stay you can still visit the other side to make sure you get the full experience.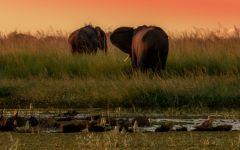 Code: ITINERARY-02677
---
Looking to extend your South African holiday with something a little different? Then why not consider adding 4 nights to your trip, and take in the iconic Victoria Falls for 2 nights followed by a 2 night stay in the 'Elephant Capital of the World' - the Chobe National Park in neighbouring Botswana. Being so close together, it is no surprise that these 2 highlights are a popular combo and addition to any SA holiday.
---