In National Parks and Private Reserves
For anyone with limited time or budget constraints, there are still opportunities to go on a South African safari and experience the thrill of seeing wildlife in their natural habitat. Trips do need to be pre-booked, so you will have to plan ahead a bit, and you may have to make your way to a pick-up point, but for the rest of the time, relax and enjoy Africa at its best!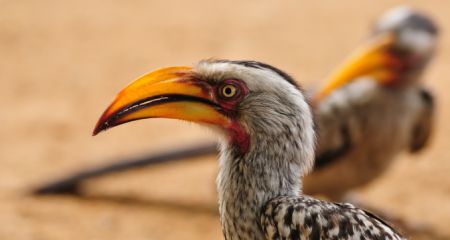 Guided trips in a National Park are ideal for those people who don't want to do a self-drive safari. On Land Rovers which can seat anything from 10 people up to 25 people, your trained guide will drive you through the National Park for either a short 2-3 hour drive, or on a full day safari adventure. The main restriction is that all game viewing vehicles have to remain on the roads at all times and they not allowed to go off-road at all. Your guide will be highly knowledgeable about the bush and the animals, and more than happy to share his or her knowledge with you and answer any questions that you may have as you go.
Animals are mostly active first thing in the morning and in the early evening, so these are the best times to do a guided trip if this can be arranged. The middle of the day is generally a quieter time for any game viewing, as the animals tend to rest from the heat of the sun. It can also be frustrating if you do see something interesting whilst out on your drive, but are unable to go back and follow any progress or trail the next day.
Several safari lodges, especially those around the Eastern Cape, offer day visitor programmes, which are ideal for people with limited time or who cannot afford a longer stay in a private lodge. In general, these will include lunch, followed by a 3 hour game drive on the reserve with a trained ranger. Because the land is privately owned, you will be able to go off-road to follow the wildlife through the bush, and have an unbelievably close encounter. Some lodges also offer an evening programme, which starts with the game drive, and ends with a safari dinner.